Southern states to endure record-challenging heat
Ben Domensino, 24 January 2019
Records could be broken during the next 48 hours as a pulse of intense heat sweeps across southern Australia.
Temperatures are forecast to reach the mid-to-high forties across a large area of South Australia today, as northerly winds drag hot air across the state from the nation's interior.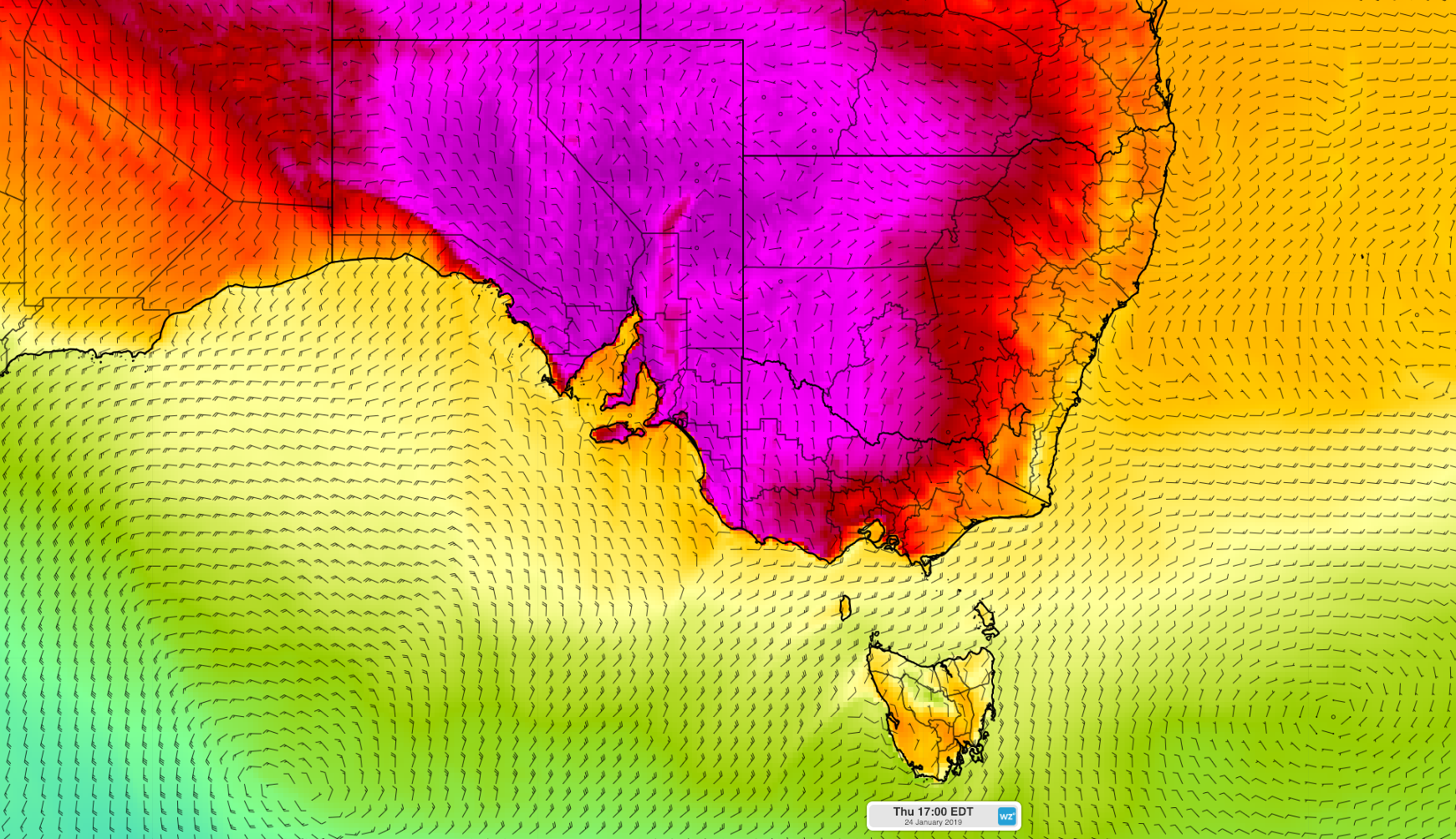 Image: ACCESS-R model showing northerly winds dragging heat across southern Australia on Thursday, January 24th.
Adelaide is forecast to hit 45 degrees and could possibly challenge its maximum temperature record of 46.1 degrees from 1939.
Port Augusta is tipped to reach 49 degrees today, possibly beating the record-setting 48.9 degrees the city registered on Tuesday last week.
After targeting South Australian today, the focus of the heat will shift across to southeastern Australia on Friday.
Melbourne's forecast minimum temperature of 29 degrees on Thursday morning is higher than the city's January record of 28.8 degrees. However, the official minimum temperature at 9am on Thursday will be 21.2 degrees, which occurred at 9am on Wednesday. This peculiarity is due to daily minimum temperatures being the lowest value recorded during the 24 hours to 9am each day.
Regardless of this rule, it's going to be a very warm morning in Melbourne, setting the city up to easily exceed 40 degrees in the afternoon. The city's forecast top of 43 degrees would be its warmest day in five years, but well below Melbourne's record of 46.4 degrees from 2009.
Hobart is tipped to reach 37 degrees on Thursday, which is 15 degrees above average and also the city's warmest day in five year. Hobart's highest temperature on record was 41.8 degrees in 2013.
The heat will also help elevate fire danger ratings in southern Australia during the next 48 hours. Total fire bans have been issued for all but two districts in South Australia on Thursday and across the entire state of Victoria on Friday. Fire danger ratings are likely to reach Severe in Tasmania on Friday as the hottest air sweeps over the state, with fire bans also in place across the state.