Record-breaking heat in southeastern Australia
Ben Domensino, 25 January 2019
The hottest weather since Black Saturday is affecting parts of Victoria today as record-breaking heat sweeps across southeastern Australia, ahead of an approaching cool change.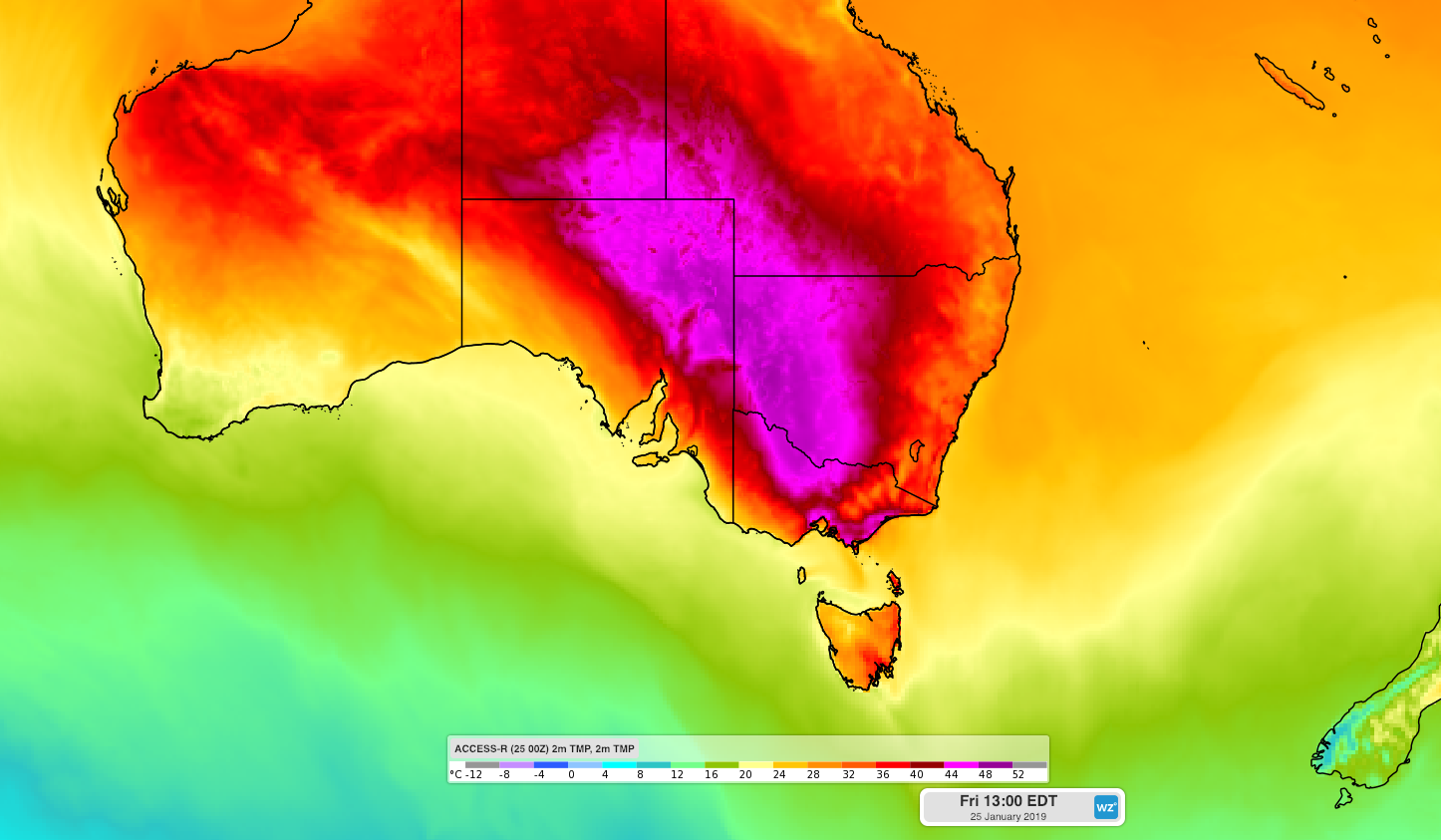 Image: A record-breaking mass of hot air sweeping through southeastern Australia on Friday
As the mercury soared into the mid forties across large areas of Victoria on Friday, Laverton (44.8C), Tullamarine (46.0C), Yarram (45.7C) and Orbost (44.1C) had all registered their highest temperature since February 2009 by 3pm EDT. For these parts of the state, it's the hottest day since Black Saturday.
Fortunately, winds aren't as strong and the air isn't as dry today as they were 10 years ago, which is keeping fire danger ratings lower than Black Saturday. However, the intense heat has been enough for the CFA to issue total fire bans across the entire state on Friday.
Some places did manage to set new records on Friday. As of 3pm, Kyabram's top of 46.7 degrees was its highest temperature in more than 50 years of records, beating Black Saturday's 46.6C.
Further north, records tumbled earlier in the day as western NSW experienced unprecedented minimum temperatures on Friday morning. Fowlers Gap's low of 35.1 degrees and Broken Hill's 33.6 were their warmest minimum temperatures on record.
This comes a day after the same mass of hot air broke numerous records in South Australia on Thursday. One of the standouts was 46.6 degrees at Adelaide's West Terrace site, which was its highest temperature on record and the highest temperature ever recorded at an Australian capital city's main weather station.
Temperatures may rise further during the coming hours in parts of southeastern Australia and more records could fall.