Challenging day for firefighters in NSW
Ben Domensino, 10 December 2019
A burst of hot and windy weather will elevate fire danger ratings in NSW on Tuesday.
A mass of hot air will pass over NSW on Tuesday with the passage of a low pressure trough, causing temperatures to climb more than 10 degrees above average in some parts of the state.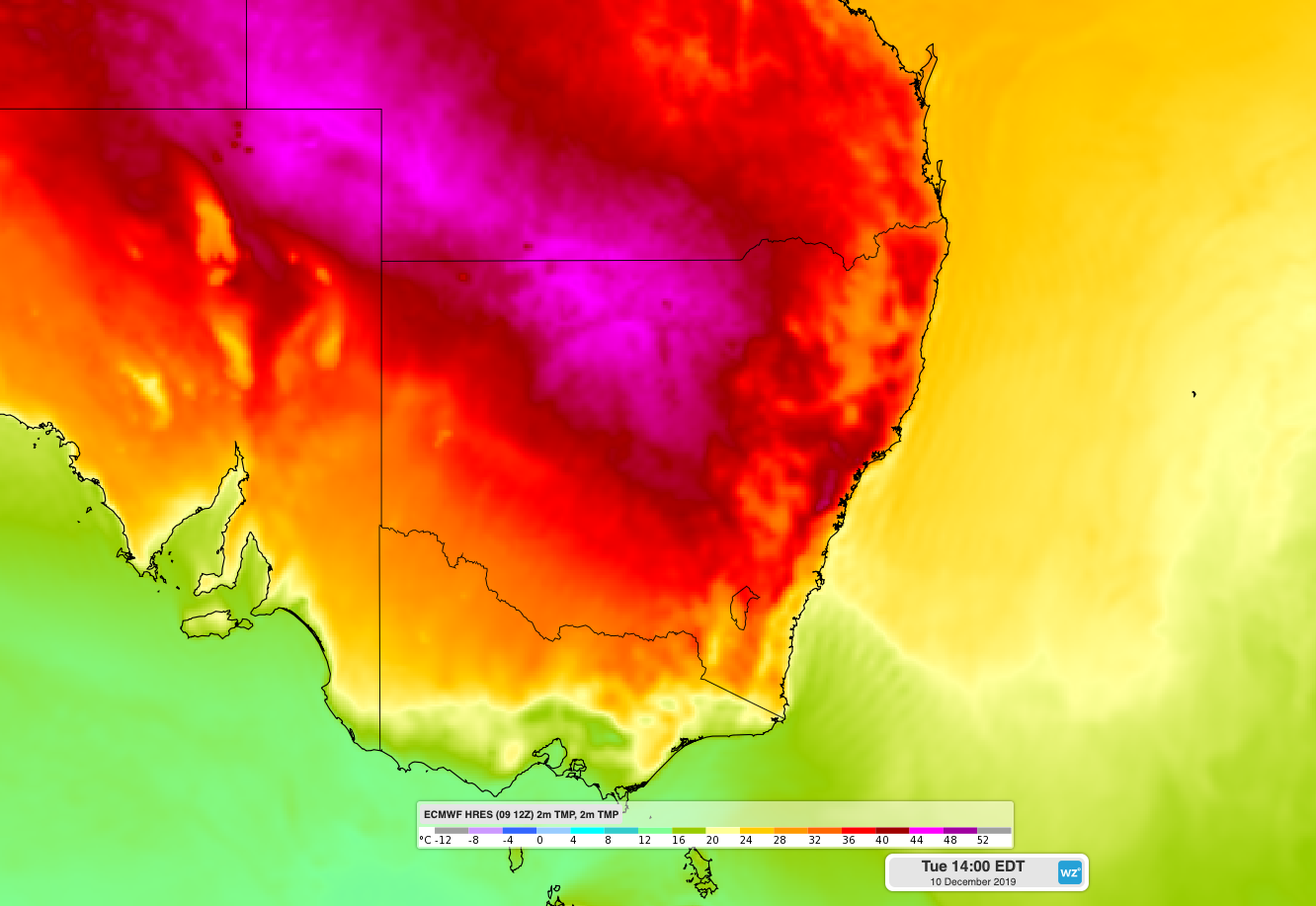 Image: Modelled surface temperature showing hot air over NSW on Tuesday afternoon.
The temperature at Mount Boyce, which sits at 1,080 metres elevation, had already reached 27 degrees at 9am. Closer to sea level, the mercury is forecast to reach the low forties in parts of central, northern and western NSW by Tuesday afternoon, including western of Sydney.
Tuesday's heat will combine with relatively dry and windy weather to cause Very High to Severe fire danger ratings in 13 of the state's 20 fire areas and the ACT. At 9am, there were more than 80 bush and grass fires burning in NSW.
As the day unfolds, a southerly change will move along the southern and central coast and ranges of NSW. While this change will bring a welcome drop in temperature, it will also cause fires to start moving in a different direction.
In addition to variable wind directions, a low pressure trough passing over NSW will also cause thunderstorms in some areas on Tuesday. These storms will be most widespread in the state's northeast during the afternoon, although they could also occur over the northwest slopes and in parts of central and southeast NSW. Unfortunately, the rain from these storms will be hit and miss and they are also likely to cause dry lightning in some areas, which could ignite new fires.
Sydney will see temperatures climb during the morning amid a blanket of smoke, before a blustery southerly change reaches the city in the early-to-mid afternoon. This change will drop temperatures abruptly and should help clear some of the smoke out of the Sydney Basin.
Visit https://www.rfs.nsw.gov.au/fire-information/fires-near-me for the latest information about fires in NSW and https://esa.act.gov.au/rural-fire-service for fire information in the ACT.