Welcome rain in eastern NSW
Ben Domensino, 18 September 2019
The heaviest rain in 1-3 years has fallen in parts of eastern NSW during the last couple of days, prompting a flood watch in parts of the lower Hunter and Central Coast.
A low pressure trough combined with moisture-laden onshore winds has caused heavy rain in eastern NSW during the first half of this week.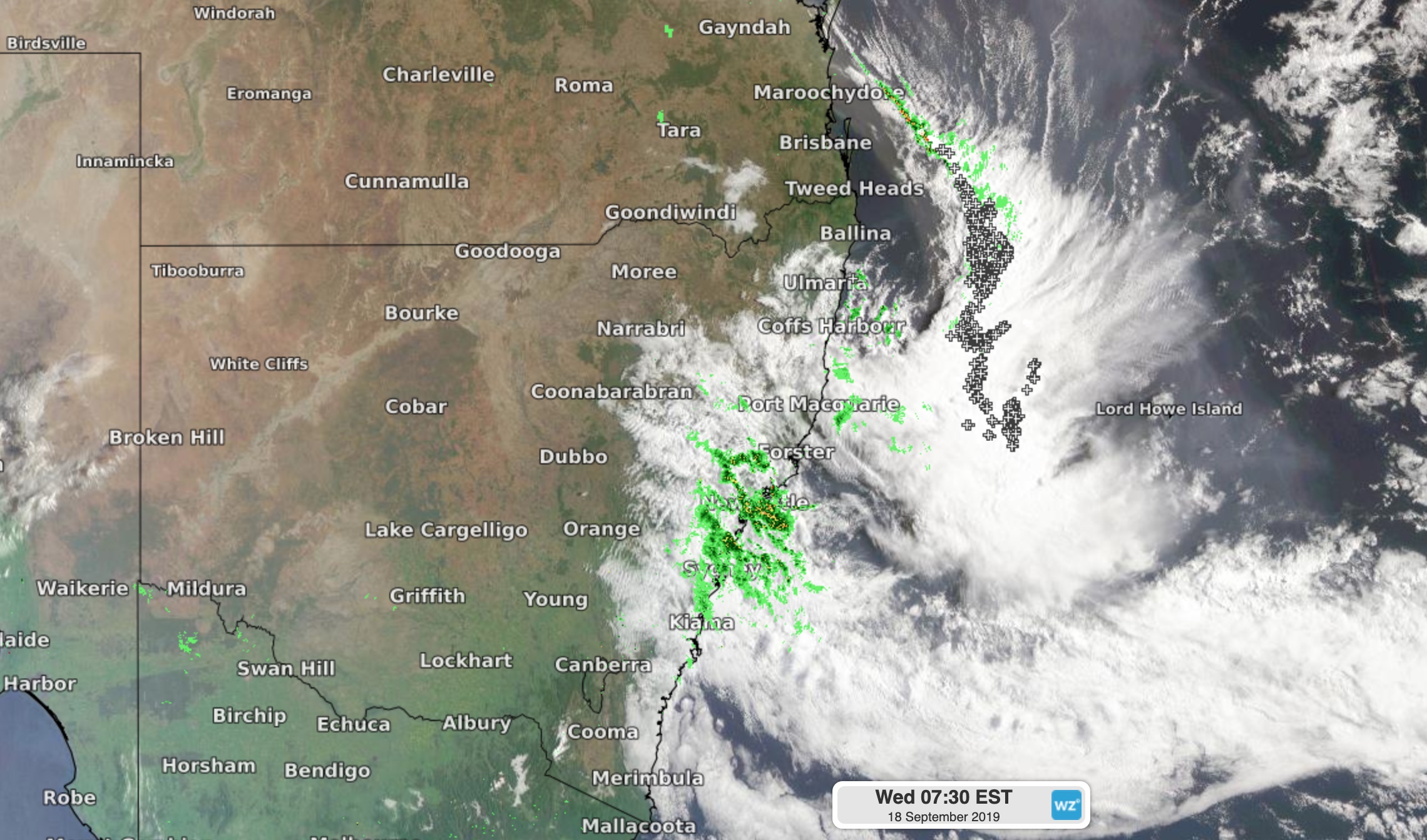 Image: Cloud and rain over eastern NSW on Wednesday morning.
Widespread falls of 30-70mm were recorded between the Illawarra and Hunter during the 24 hours to 9am on Wednesday, including most of the Sydney Basin and Newcastle.
In Sydney, Terrey Hills picked up 85mm of rain during the 24 hours to 9am on Wednesday, which was the site's best rain since June 2016. Richmond's 55.6mm was their heaviest rain since June 2017, while 65.6mm at Observatory Hill was the city's highest daily total since March. Sydney's monthly average during September is 68mm.
A rain gauge at Warragamba Dam collected 59mm of rain during the 48 hours to 9am on Wednesday, which was its best rain in at least six months.
The heaviest rain from this event so far has been recorded in the Upper Hunter. Careys Peak in the Barrington Tops registered 143mm during the 24 hours to 9am on Wednesday, its biggest daily fall in 11 months.
Further north, there was useful rain over some fire-affected areas of northeast NSW on Tuesday and Wednesday, although falls were hit and miss.
During the 24 hours to 9am on Wednesday, Grafton's 19.4mm was their highest daily total in six months, while Coffs Harbour (22.8mm) had its heaviest rain in three months and Port Macquarie (11.6mm) its best drop in two months.
Closer to the larger fire grounds, Drake received 6.4mm and Meldrum, to the east of Armidale, collected 10mm. Unfortunately, dry thunderstorms ignited new fires in some areas of northeast NSW on Tuesday.
At 9am, 47 bush and grass fires are burning & 13 are uncontained. Some rain was recorded on the major firegrounds, but it was not enough to extinguish the fire. Crews will undertake back burns where conditions allow. #nswfires #nswrfs Stay up to date: https://t.co/d0LeCvW71O pic.twitter.com/bPSq0v1j8j

— NSW RFS (@NSWRFS) September 17, 2019
Falls have been lighter over central western NSW this week, although some areas picked up decent rain. Bathurst's 35mm during the 48 hours to 9am on Wednesday was its biggest two-day total in seven months. Further north, Mudgee collected 34mm during the last 48 hours, while Dubbo only picked up 9mm.
A flood watch was in place on Wednesday morning for the Myall River, the Paterson and Williams Rivers and Tuggerah Lake, where minor flooding is possible from the recent rain.
A hazardous surf warning is also in place between the Macquarie Coast and Illawarra Coast on Wednesday.