Dams dwindling in NSW after dry June
Ben Domensino, 3 July 2019
Dam levels continued to fall across much of NSW last month, as the state experienced its driest June in 33 years.
Despite some decent periods of rain east of the ranges last month, NSW as a whole endured yet another drier-than-usual month.
Statewide rainfall was nearly 50 percent below the long-term average during the month, making it the driest June since 1986.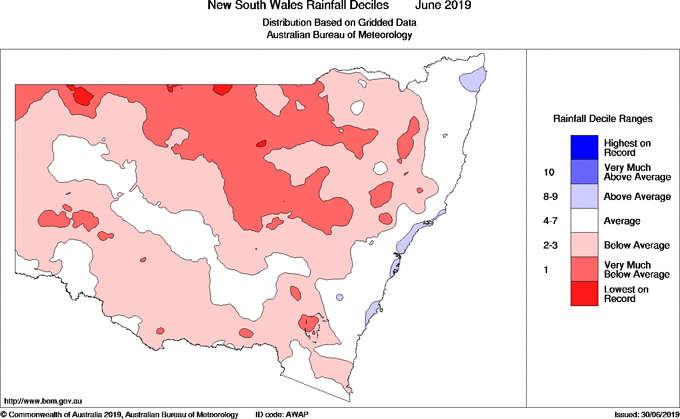 Image: Rain deciles in NSW during June 2019. Image: Bureau of Meteorology.
Some areas picked up less than 1mm of rain, including a paltry 0.8mm at Bourke Airport, their lowest June total in 21 years of records.
Brewarrina (1.4mm), Gulgong (4.2mm) and Pilliga (1.2mm) all had their driest June in more than three decades.
Dam levels continued to fall across most of the state last month, in response to sparse rainfall. Water storage in the Macquarie Valley reached 11.8 percent of its capacity on July 1st, down from 36.9 percent from the same time last year.
The Murray Darling Basin had its 10th driest June in 120 years of records. Water storage in the Northern Basin had dipped to nine percent of capacity towards the end of the month.
While Sydney's 171mm during June was above the month's long-term average of 133mm, the city's water storages continued to decline throughout the month. Sydney's total water was down to 52.1 percent of its capacity on Tuesday, July 2nd.
Predominantly clear skies in June also contributed to warm days and cold nights.
The mean maximum temperature in NSW during June was 1.06 degrees above the long-term average, making this the 26th consecutive month with warmer-than-usual days.
Overnight temperatures were half a degree above the long-term June average for the state as a whole, although most southern inland districts experienced cooler-than-usual nights.
The Bureau of Meteorology's latest seasonal outlook suggests that relatively warm days, cool nights and below-average rainfall are likely for much of NSW during the rest of winter.