Bahamas suffering prolonged exposure to powerful Hurricane Dorian
Ben Domensino, 3 September 2019
Hurricane Dorian stalled over the Bahamas on Monday, causing a prolonged period of life-threatening weather on Grand Bahama Island.
Satellite images reveal that Hurricane Dorian took more than 24 hours to traverse half the length of Grand Bahama, an island that's only about 120km wide. During this time, Dorian has only gradually weakened from a chart-topping category five hurricane to a category four system. Despite weakening, Hurricane Dorian is still causing destructive weather.
#Dorian has taken more than 24 hours to traverse half of Grand Bahama. This prolonged exposure to the hurricane's powerful eye wall, combined with storm surge, has caused significant flooding and structural damage on the island. A truly devastating hurricane. pic.twitter.com/JHAOmt8G6k

— Ben Domensino (@Ben_Domensino) September 3, 2019
The slow movement of Dorian during on Sunday night and Monday caused some areas of the northwest Bahamas to sit under the very destructive eye wall of the hurricane for hours on end.
The combination of hurricane-force winds, persistent heavy rain and a large storm surge caused significant structural damage and flooding in parts of Grand Bahama on Monday.
Videos being uploaded onto social media showed people taking refuge in their roofs to escape the floodwaters, which engulfed entire lower levels of some buildings.
2 storey homes are not high enough in #HurricaneDorian #Freeport . Please continue to pray for our people pls. pic.twitter.com/CqMHI7hYRc

— Nahaja Black (@NahajaBlack) September 2, 2019
According to reports, at least five people have been killed in the Bahamas so far by Dorian. This number may rise as authorities assess the damage during the days ahead.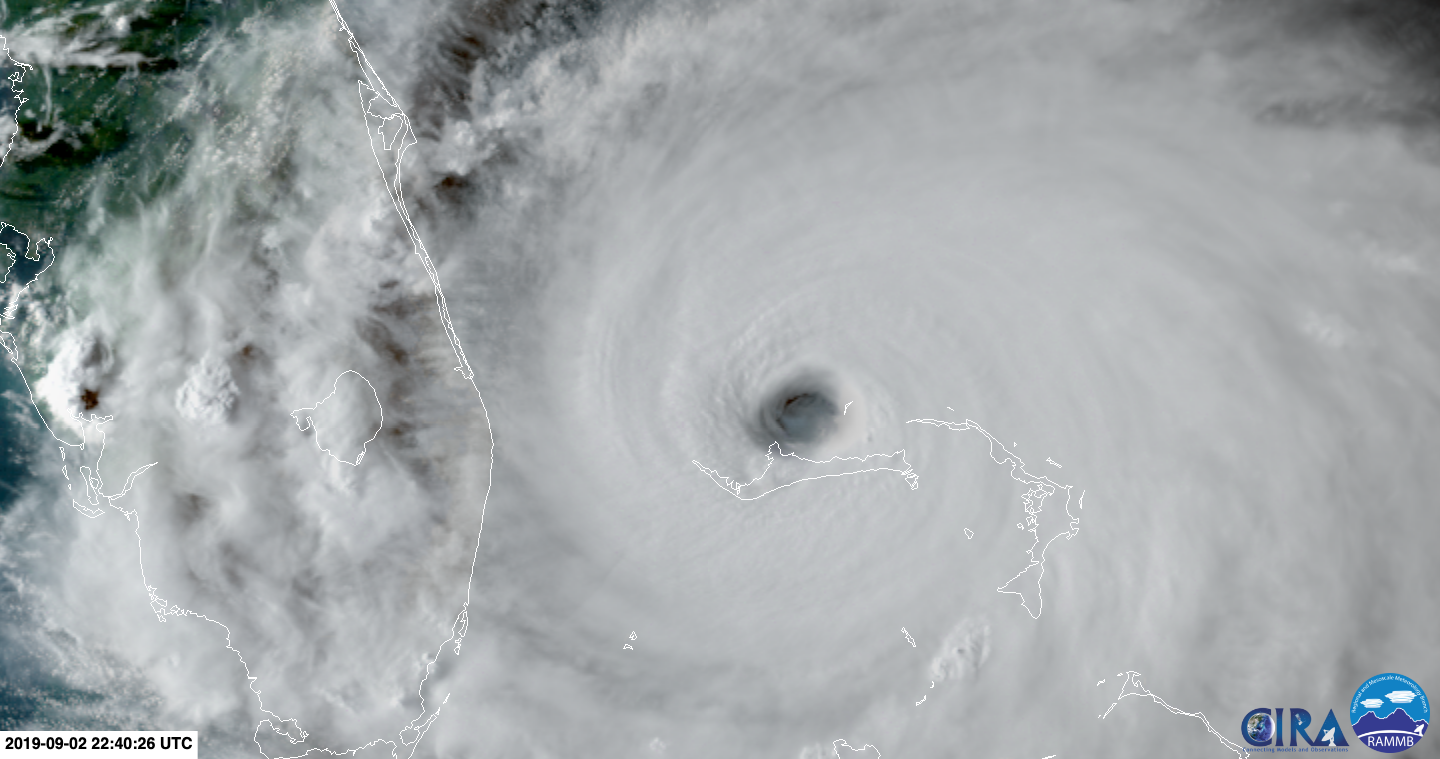 Image: The sun setting over Hurricane Dorian on Monday evening. Source: CIRA/RAMMB
Hurricane Dorian will remain slow-moving near Grand Bahama during Monday night into Tuesday morning, before picking up some speed and moving towards the north northwest later on Tuesday.
Dorian is expected to move close to and roughly parallel to Florida's east coast on Wednesday and could pass near the coasts of Georgia and the Carolinas on Thursday. Even a small change to this predicted path could result in Dorian making landfall in the southeast United States. Either scenario is likely to cause life-threatening weather in populated areas during the next few days.
The latest advisories for Hurricane Dorian can be found here: https://www.nhc.noaa.gov/