Severe storms, dust and snow strike NSW
Ben Domensino, 26 November 2019
Showers, thunderstorms, damaging winds, areas of raised dust, bushfires and snow are all affecting NSW today.
The passage of a cold front and low pressure trough are causing the volatile mix of weather in NSW, bringing a mixture of welcome rain, dangerous wind and storms and pesky airborne dust.
A broad line of thunderstorms formed over central NSW late on Tuesday morning, gradually gaining strength as they moved from west to east. The intense storms prompted warnings for damaging wind and large hail as they approached and swept over the Sydney Basin at lunch time.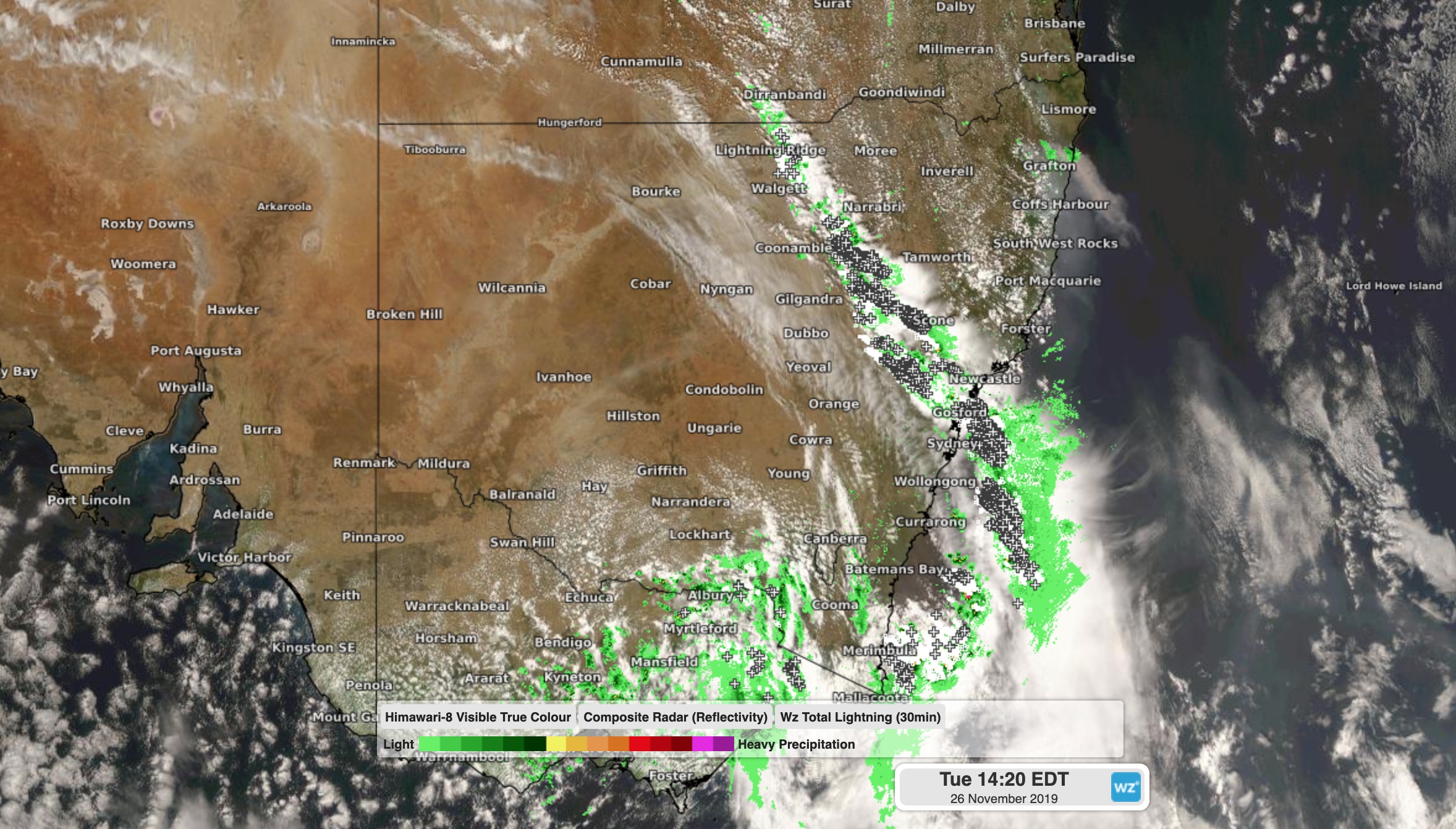 Image: Satellite and radar imagery showing thunderstorms over NSW on Tuesday afternoon.
By 2pm, wind gusts had reached 104km/h at Fort Denison, 96km/h at Holsworthy and 91km/h at Richmond. Rain has drenched a number of Sydney suburbs, while Gosford received 11mm of rain and cooled by 10 degrees in the space of just 20 minutes during one of the storms.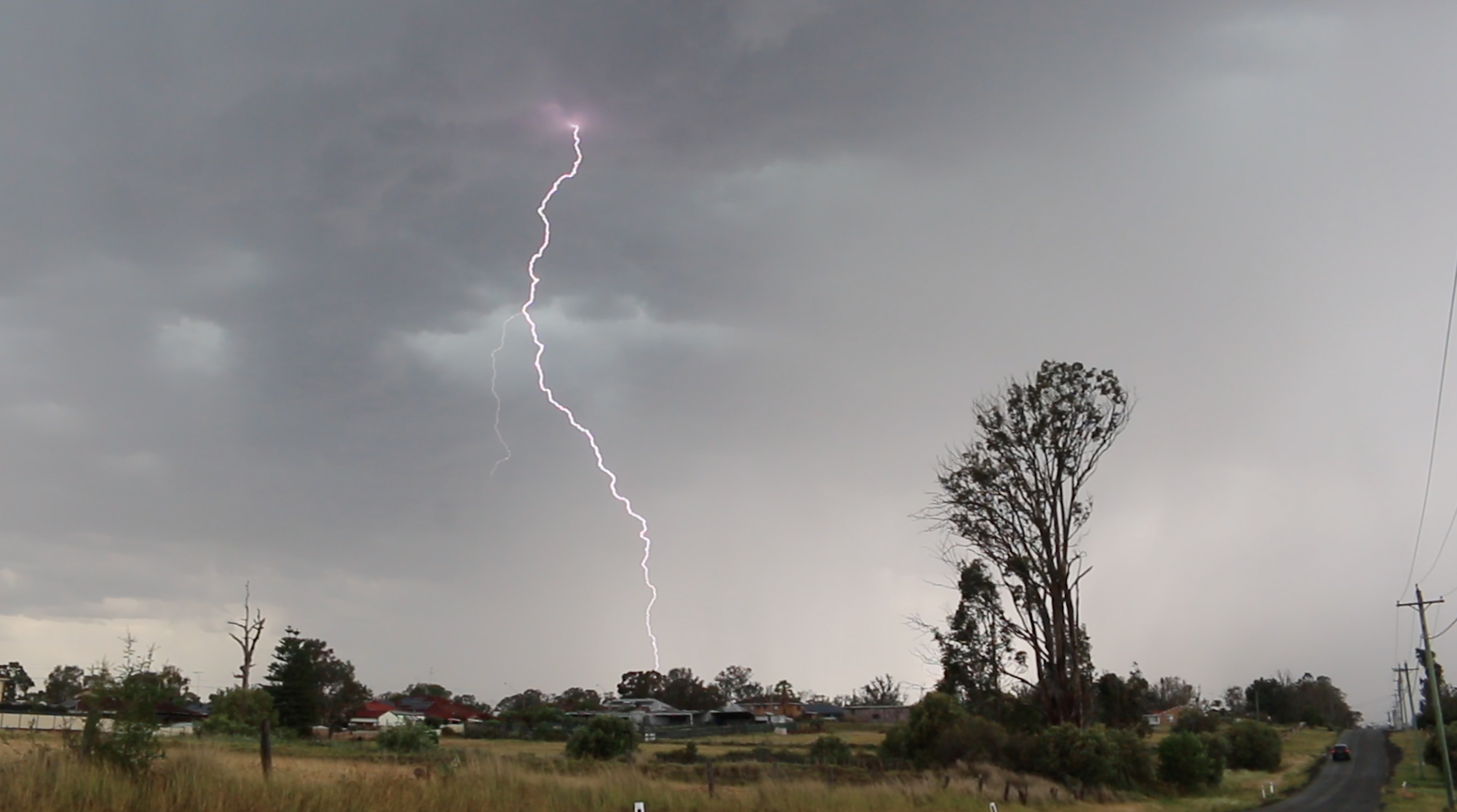 Image: A lightning strike at Luddenham, NSW on Tuesday.
Gusty showers and potentially severe thunderstorms will spread over parts of northern and northeast NSW during Tuesday afternoon and evening as the front and trough move towards the Tasman Sea.
Behind the front, cooler southwesterly winds are whipping up areas of raised dust over the state's parched inland. Satellite images revealed streaks of dust being kicked up across the western and southern inland during the early afternoon.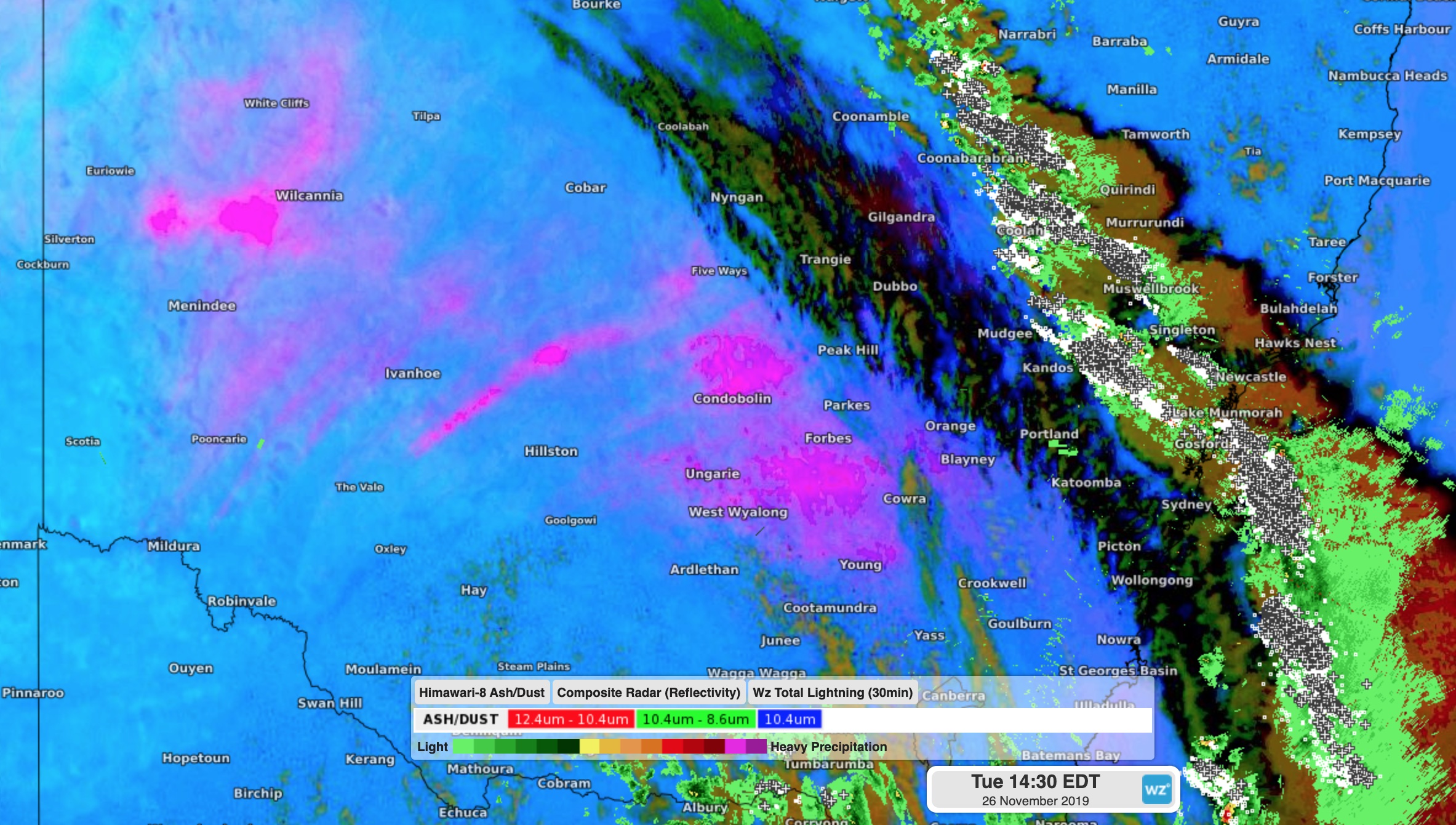 Image: Enhanced infrared satellite image showing streaks of raised dust (pink) over western NSW on Tuesday afternoon.
This cooler air behind the front is also causing snow to settle on the mainland alps. The temperature at Thredbo Top Station dipped to 0.8 degrees at 2pm while precipitation was being recorded. This is cold enough for snow to be reaching the ground.
While today's fast-moving storms aren't bringing widespread heavy rain, they should help extinguish some of fires burning in the state's east. Unfortunately, today's volatile weather is also problematic for the fires. The Rural Fire Service has received reports that lightning has started new fires in NSW, while gusty winds associated with the storms and the cold front would be making fires more difficult to control.
According to the Rural Fire Service, there were still 87 bush and grass fires burning in NSW at 12:30pm on Tuesday.