Tropical cyclone potential rising once again
Ben Domensino, 3 April 2019
The likelihood that a tropical cyclone will develop to the north of Australia will increase this weekend.
A tropical low that was located north of the Top End on Wednesday is expected to move towards the southwest during the next few days.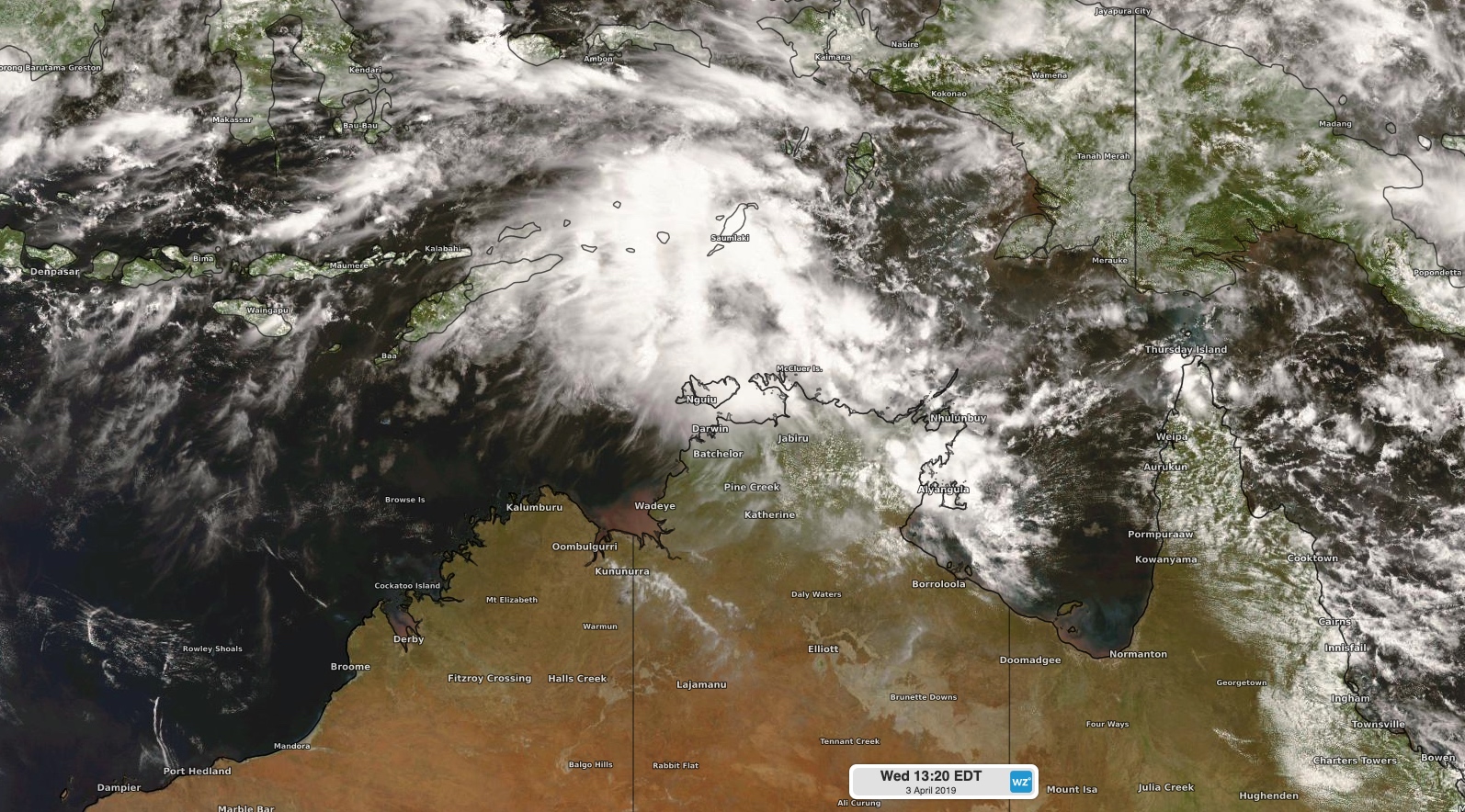 Image: Cloud near a tropical low to the north of the Top End on Wednesday.
This low is likely to gradually deepen as it moves over the Timor Sea during the weekend, increasing the probability that it will become Australia's next tropical cyclone.
The Bureau of Meteorology give the system a 5 to 20 percent chance of becoming a tropical cyclone on Friday, but they indicate this could increase to 20 to 50 percent over the weekend.
A number of forecast models agree with this trend, suggesting the low will gain strength as it passes to the north of Western Australia's Kimberley District this weekend and early next week.
Tropical lows and cyclones are dynamic systems and their movement is difficult to predict beyond the next few days. Some computer models hint that this system could eventually impact the Pilbara coast next week, however it's too early to know exactly where it will travel.
Anyone living along the northern coast of WA should keep a close eye on the latest forecasts and warnings, for the most accurate and up-to-date information, during the next week.
This continues an active period of cyclone activity near northern Australia. It's been less than two weeks Severe Tropical Cyclones Trevor and Veronica both affected Australia's northern coastline at the same time.
It's not unusual to see clusters of tropical cyclones near Australia during March and April. According to the Bureau of Meteorology, the monsoon trough spends more time over water during these latter months of the wet season, which increases the likelihood that lows will strengthen into tropical cyclones. Earlier in the wet season season, which runs from October to April, the monsoon trough is more likely to move over the Australian continent, which hinders tropical cyclone development.
The next tropical cyclone to develop in Australian waters will be named Wallace.