Severe weather lashing southeastern Australia
Ben Domensino, 3 June 2019
Parts of southeastern Australia are being warned of heavy rain, damaging winds, powerful surf and low-level snow during the next 24 hours.
A cold front and associated low pressure system are driving a large mass of cold Southern Ocean air across southeastern Australia, triggering an outbreak of severe weather.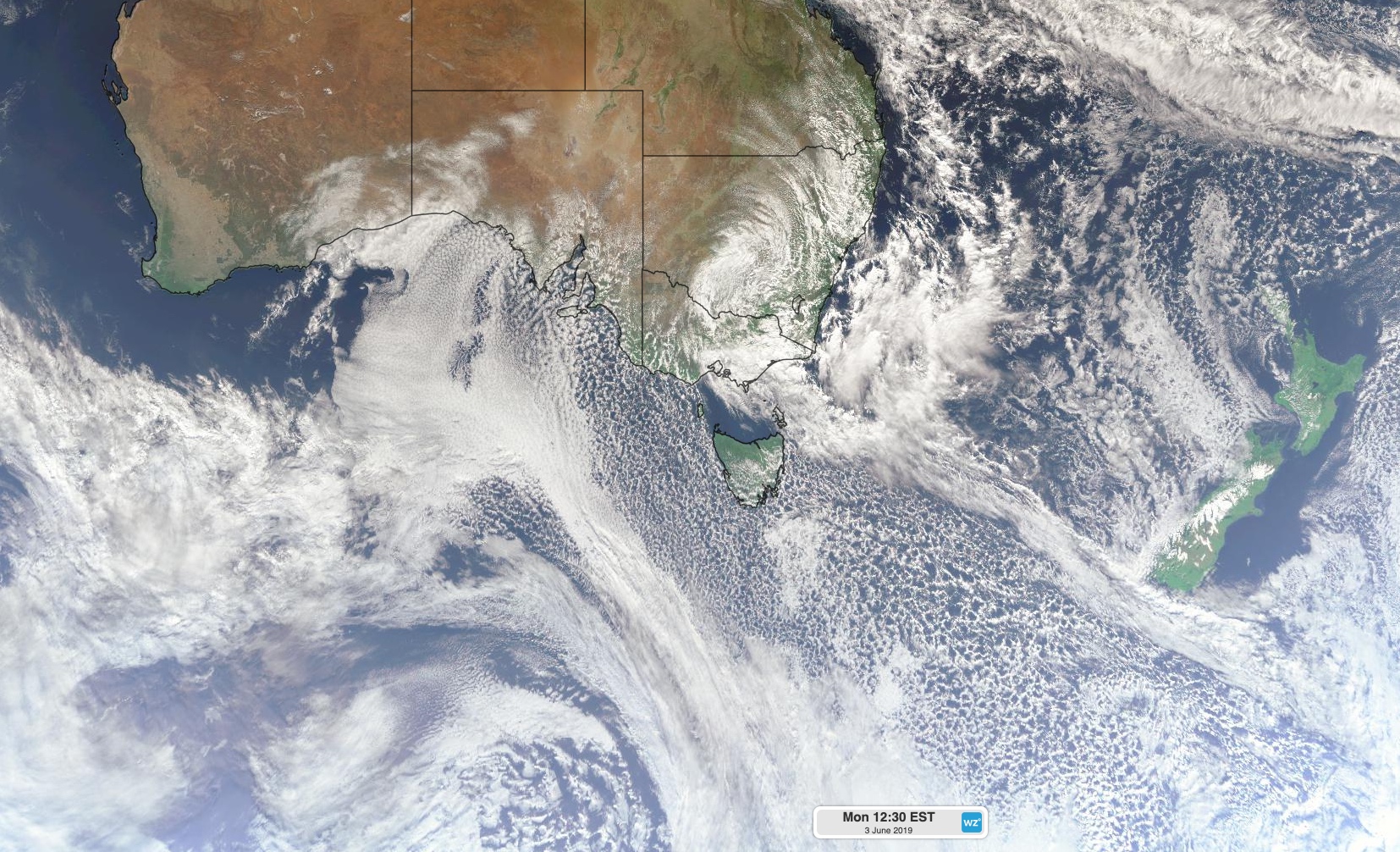 Image: Satellite image showing cold air surging over southeastern Australia on Monday.
This system has already brought damaging winds and heavy rain to Tasmania and Victoria during the last 24 hours.
Parts of central Victoria received 20-30mm of rain on Sunday night and Monday morning. Avalon Airport's 37mm during the 24 hours to 9am was a month's worth of rain for the site and their highest daily total in two years. Nearby, Geelong (33mm) picked up its heaviest rain in 16 months.
Wind gusts reached 107km/h at Victoria's Mount William and 93km/h on Mount Wellington, near Hobart, on Monday morning. Damaging winds will remain a threat in parts of eastern Victoria into Monday evening.
In addition to the wind and rain, snow was also falling at some of Australia's alpine ski resorts during Monday morning. Mount Baw Baw, Falls Creek, Mount Hotham and Thredbo all received some fresh falls.
The burst of wintry weather will continue to spread north through NSW and Queensland during the next 24 hours as a low pressure system deepens in the Tasman Sea.
Damaging winds, heavy rain and damaging surf will develop in southeastern NSW on Monday night, before spreading north along the coast and adjacent ranges on Tuesday.
This burst of wet and windy weather will affect Wollongong and Sydney on Tuesday morning and Newcastle by lunch time. This inclement weather will hit Sydney during the morning commute, with the strongest winds likely to affect the city's eastern suburbs.
The deepening low pressure system will continue to cause snow in the mainland alps into Monday evening, with heavy falls likely in some areas.
Snow will also settle on the ranges and tablelands in central and northern NSW during Monday night and early on Tuesday. Parts of the Northern Tablelands could be waking up to a few centimetres of snow on the ground by Tuesday morning.
Air cold enough for snow will even spread over Queensland's southern Granite Belt early on Tuesday morning. The best chance of seeing snow will be near and south of the Stanthorpe area, although this will depend on how much moisture is left in the air once it gets this far north.
Conditions will ease gradually as the low pressure system system moves out into the Tasman Sea on Tuesday and Wednesday.
Visit https://www.weatherzone.com.au/warnings.jsp for the latest warnings.