Rain looms for southeastern Australia
Ben Domensino, 29 April 2019
Anticipation is building around a cut-off low pressure system that's set to bring widespread rain to drought-affected areas of southeastern Australia this week.
An upper-level low pressure system will become cut off from the belt of westerly winds that permanently flows between Australia and Antarctica this week.
As this stray low approaches southern Australia, it will interact with tropical moisture to produce widespread rain in a number of states and territories.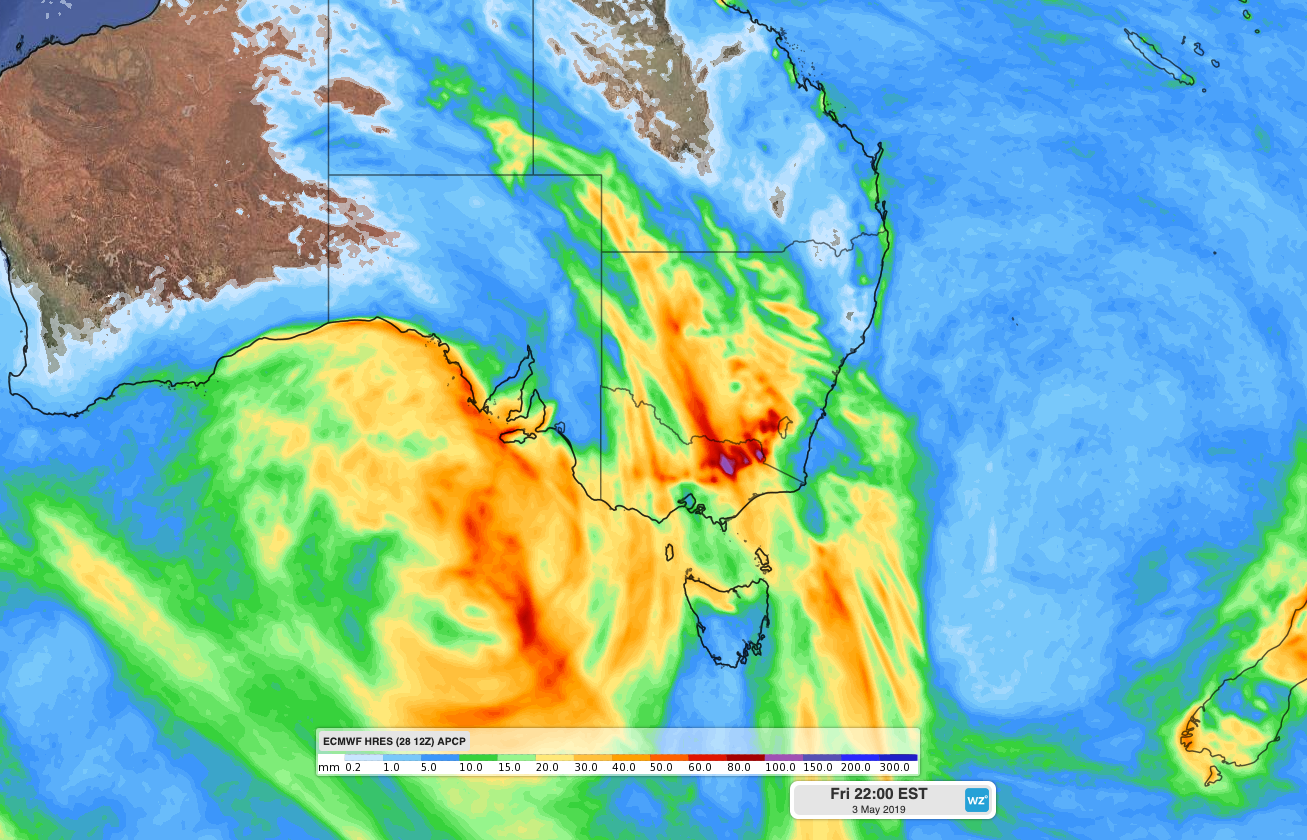 Image: Accumulated rainfall between Monday and Friday according to the ECMWF-HRES model.
Showers will develop over South Australia on Tuesday, ahead of the approaching low. Rain and storms will then spread across Victoria, NSW, the ACT, Tasmania and southwest Queensland between Wednesday and Friday, as the system moves further east.
Parts of Tasmania, Victoria, NSW, the ACT should see decent rain from this system, including large areas of the parched Murray Darling Basin.
However, cut-off lows are dynamic systems and their movement is difficult to predict. This is important to point out, because the location and strength of the low will determine where and how much rain falls.
Based on current forecast models, widespread totals of 5-15mm are likely across much of NSW, Victoria, Tasmania, southwest Queensland and southern districts of South Australia by Friday.
Heavier falls of 20-50mm are likely to occur in parts of southern and western NSW, central and northern Victoria, northern Tasmania and some exposed southern districts of South Australia. A few places could see more than 50mm all up, particularly about the ranges in northeast Victoria.
In addition to the rain, this system will also produce severe thunderstorms and possibly damaging winds. Be sure to monitor the latest warnings during the second half of the week.
It's unclear where the low will be located by the weekend, although rain should clear most inland areas of southeastern Australia by Saturday.
Unfortunately, this week's rain won't be drought-breaking. Many areas in Victoria and NSW need more than 200mm to make up for the rainfall deficits that have built up during the last 12 months.