Dangerous fire weather sweeping across Australia
Ben Domensino, 11 November 2019
A wave of hot, dry and windy weather will elevate fire danger ratings across multiple states and territories during the next three days.
Strengthening northerly winds ahead of an approaching cold front will drive a mass of hot and dry air over southern Australia on Monday.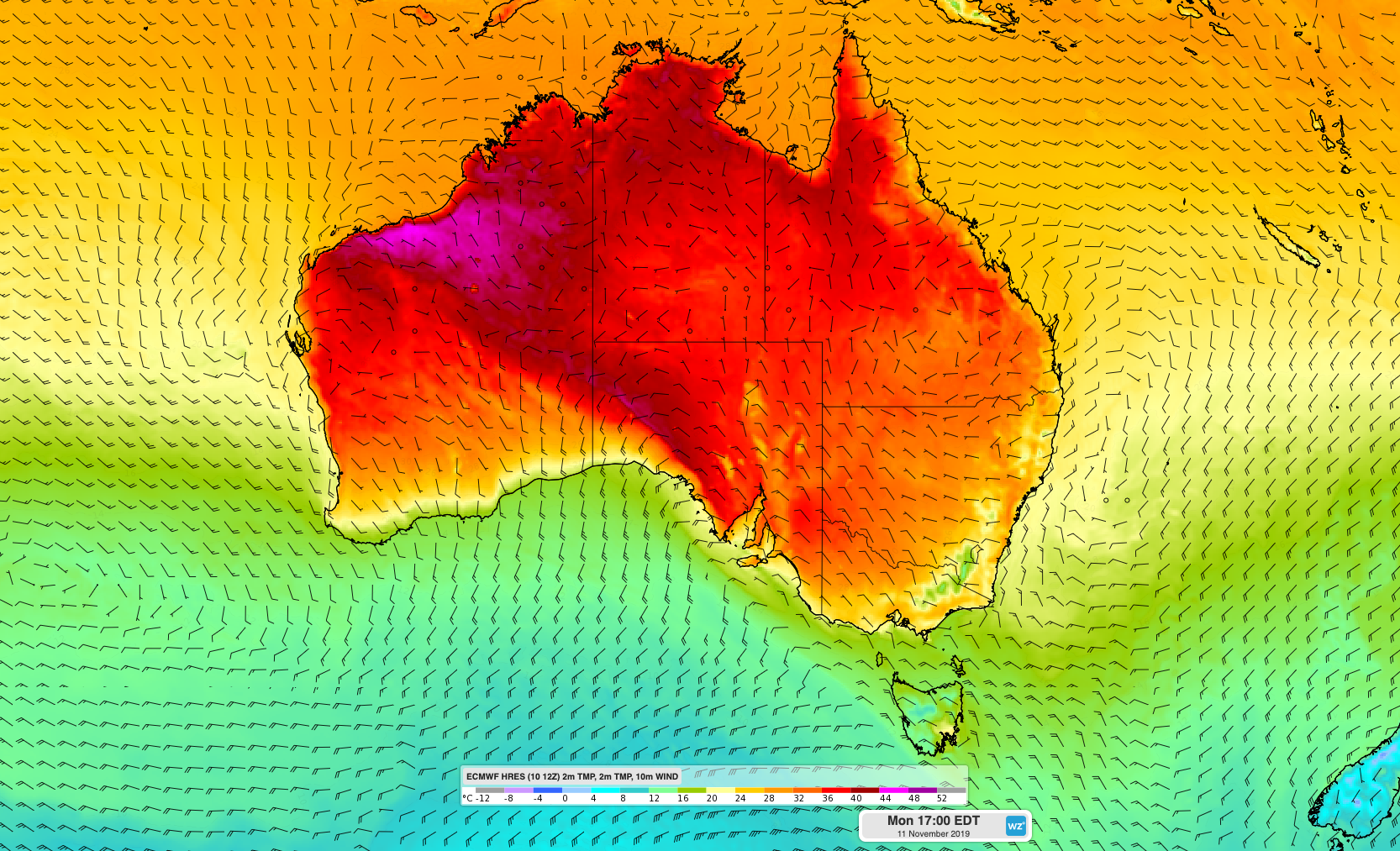 Image: Forecast surface temperature and wind on Monday according to the ECMWF-HRES model.
Temperatures are forecast to reach the low to high thirties across most of South Australia and northwest Victoria. Total fire bans have been declared for seven districts in South Australia and the Mallee District in Victoria on Monday in anticipation of Severe to Extreme fire danger ratings.
The fire danger will ease across southern Australia on Tuesday as the pulse of hot, dry and windy weather moves further north and east into NSW and southern Queensland.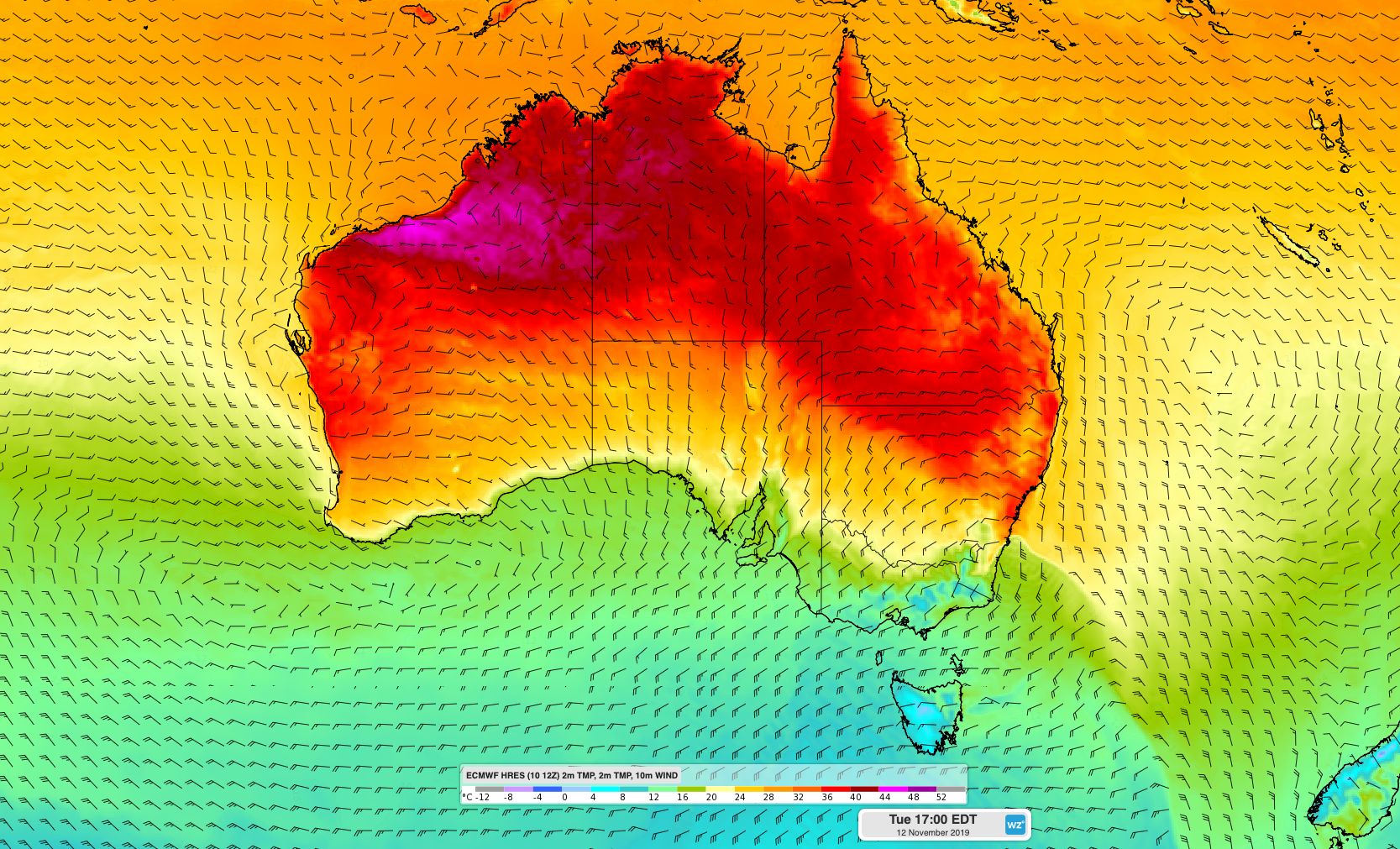 Image: Forecast surface temperature and wind on Tuesday according to the ECMWF-HRES model.
A total fire ban has been issued for all of NSW on Monday and Tuesday. Monday's fire ban is aimed at preventing any new fires from being lit across the state, in preparation for the peak day of dangerous fire weather on Tuesday.
Temperatures will exceed 30 degrees across large areas of northern, central and eastern NSW on Tuesday, with some places likely to edge above 40 degrees. Sydney is forecast to reach a top of 37 degrees before a blustery cool change arrives in the city around dinner time.
Tuesday's heat in NSW will combine with low relative humidity and strong winds, causing widespread Severe and Extreme fire danger ratings across most of the state. The most intense combination of heat, wind, low humidity and dry fuel loads will occur in the Greater Sydney, Greater Hunter and Illawarra/Shoalhaven districts. Fire danger ratings are forecast to reach Catastrophic in these densely populated districts, which is the highest level on Australia's fire danger index.
On Monday, the NSW Premier declared a state of emergency in NSW ahead of the very dangerous fire danger on Tuesday.
NSW Premier @GladysB has declared a state of emergency due to dangerous fire risk and forecast conditions. The state of emergency will remain in place for seven days. #nswrfs #nswfires pic.twitter.com/KxReFn9pGP

— NSW RFS (@NSWRFS) November 10, 2019
Temperatures will also soar in parts of Queensland on Tuesday and Wednesday, ahead of an approaching low pressure trough. Severe fire danger ratings are anticipated to affect the Darling Down and Granite Belt on Tuesday and spread into the South East Coast and Wide Bay and Burnett Districts on Wednesday. Brisbane could reach the mid thirties on both days.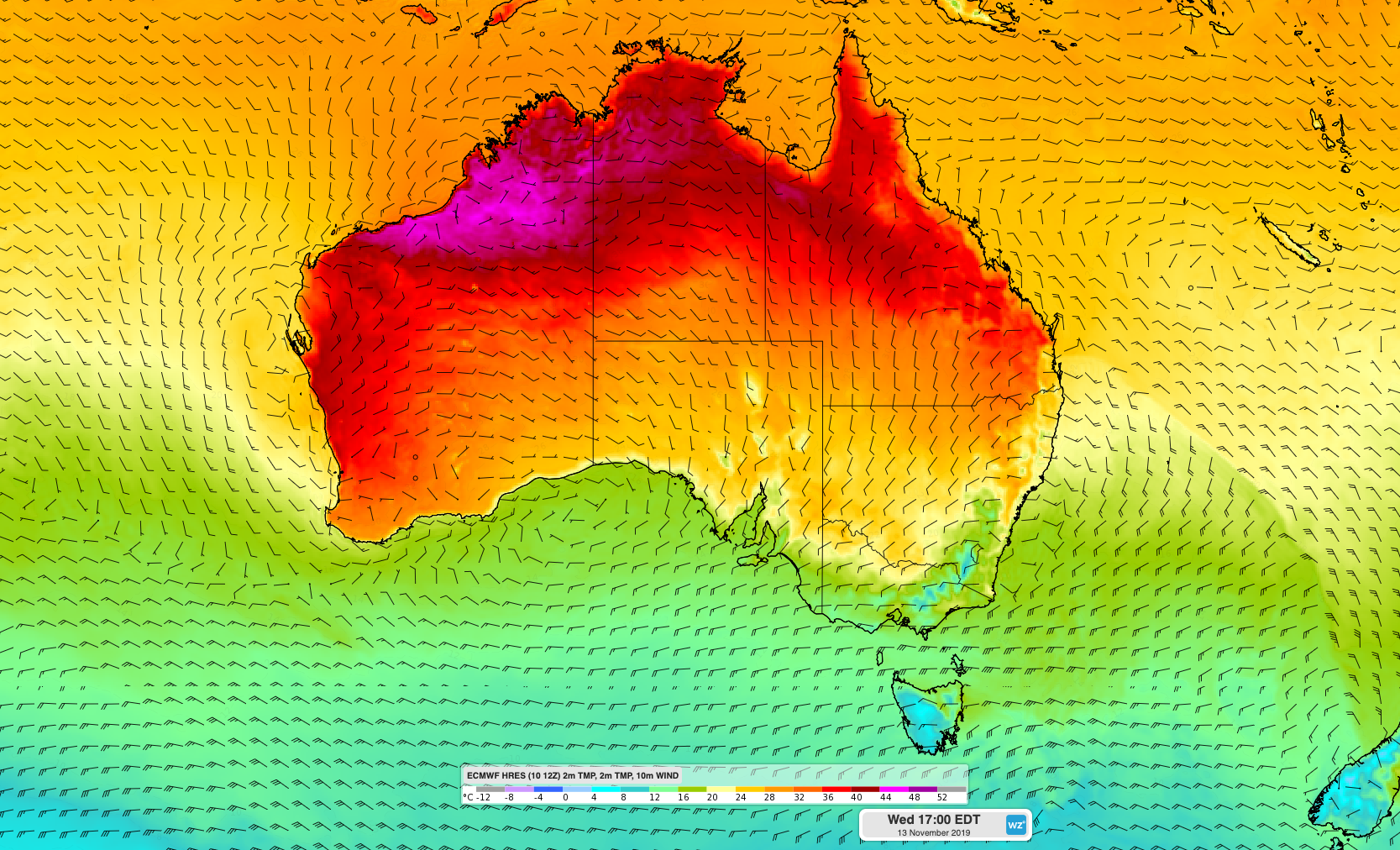 Image: Forecast surface temperature and wind on Wednesday according to the ECMWF-HRES model.
Cooler air will help reduce fire danger ratings across much of southern and eastern Australia into the second half of this week. However, this cool change will fail to bring much if any rain.
Looking further ahead, computer models indicate that below average rain and above average maximum temperatures are likely for large areas of southern and eastern Australia during the rest of 2019.