Tropical Deluge Over the Top End
Joel Pippard, 11 January 2020
More than half a metre of rain has fallen over parts of the Top End in the last 24 hours, thanks to a slow-moving tropical low.
Dum-in-Mirrie Island, about 50km west-southwest of Darwin, has broken the record for the wettest single day recorded in the Northern Territory. A colossal 562.0mm of rain fell in the 24 hours to 9am this morning, beating out the previous Territory record of 544.6mm in the Roper Valley back on 15th April 1963.
Over 350mm fell in just 4 hours between 3 and 7pm on Friday, with near-stationary thunderstorms lingering near the core of the tropical low that was overhead. Over 3500 lightning strikes were recorded within 20km of the island throughout the day.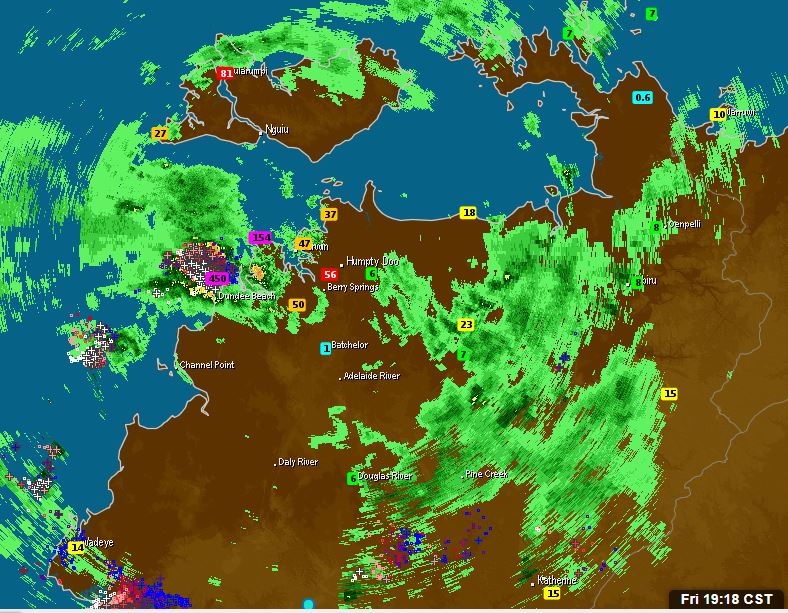 Image: Radar and lightning data from Friday evening shows the slow-moving storms over Dum-In-Mirrie
Other notable daily rainfall totals include 185mm at Charles Point, 164mm at Pirlangimpi, and 109mm at Point Fawcett on the Tiwi Islands. Darwin recorded 68.4mm in the 24 hours to 9am Saturday, making it their wettest day since November 2018.
This tropical low has now picked up speed and moved into the Joseph Bonaparte Gulf. It is expected to intensify into a tropical cyclone either on Saturday evening or Sunday morning as it continues to move to the west. It should graze the Kimberelely coast, bringing some more rainfall, before continuing to head west, away from the Western Australian Coast. When this system strengthens to a tropical cyclone, it will be named Claudia.