The monsoon brings the rain
Joel Pippard, 7 April 2019
The monsoon trough has brought heavy rain over Australia's tropical north late in the wet season.
Nhulunbuy (Gove Airport) in the Northern Territory is leading the charge in rainfall so far this month, with an impressive 374mm falling in the gauge in the past week, 121mm of which fell in the 24 hours to 9am Sunday morning. Already this is one-and-a-half times its average April rainfall of 229mm.
Lockhart River in Queensland is giving Nhulunbuy a run for its money, with 355mm of rain so far this month, 144mm of which fell on Saturday night. Thanks to record rainfall (302mm in one day) from Tropical Cyclone Trevor earlier in March, Lockhart River is now sitting at a metre-and-a-half (1500mm) of rainfall recorded since the start of the year.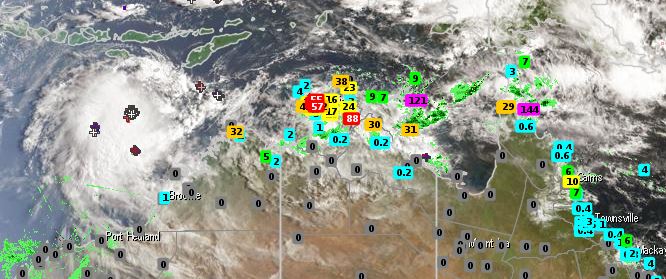 Image: Cloud and rainfall to 9am Sunday across Northern Australia
Several locations across Northern Australia have now exceeded their April average rainfall in the first week, including Darwin Airport (109mm). However, it is the inland, including Bulman (NT, 94mm) and Coen (QLD, 95mm) that has had a particularly unusual amount of rainfall. Both these areas are typically quite dry in April, with median rainfalls of 35mm and 7mm respectively.
April is the month that ends the official wet season in northern Australia, so rainfall can often be quite variable. While the monsoon trough that is responsible for the welcome rain is retreating north, throughout next week it is expected to linger close to the north coast of Australia, possibly adding more to the rainfall totals.