Record winter warmth in the UK
Ben Domensino, 26 February 2019
A spell of unseasonably warm winter weather has broken minimum and maximum temperature records in the UK during the last three days.
A high pressure system near Germany and a deep area of low pressure over the North Atlantic Ocean are combining to send a surge of warm southerly winds across Europe. This pressure pattern is being caused by an strong arc in one of the northern hemisphere's jet streams.
The jet streams are rivers of strong upper-level winds that surround our planet's polar regions in both hemispheres. When these jet streams change shape and position, they can cause large masses of warm air from the mid-latitudes to move towards the poles.
In this case, one of the northern hemisphere's jet stream has meandered over the North Atlantic Ocean, causing a pool of warm air to flow over Europe ahead of it.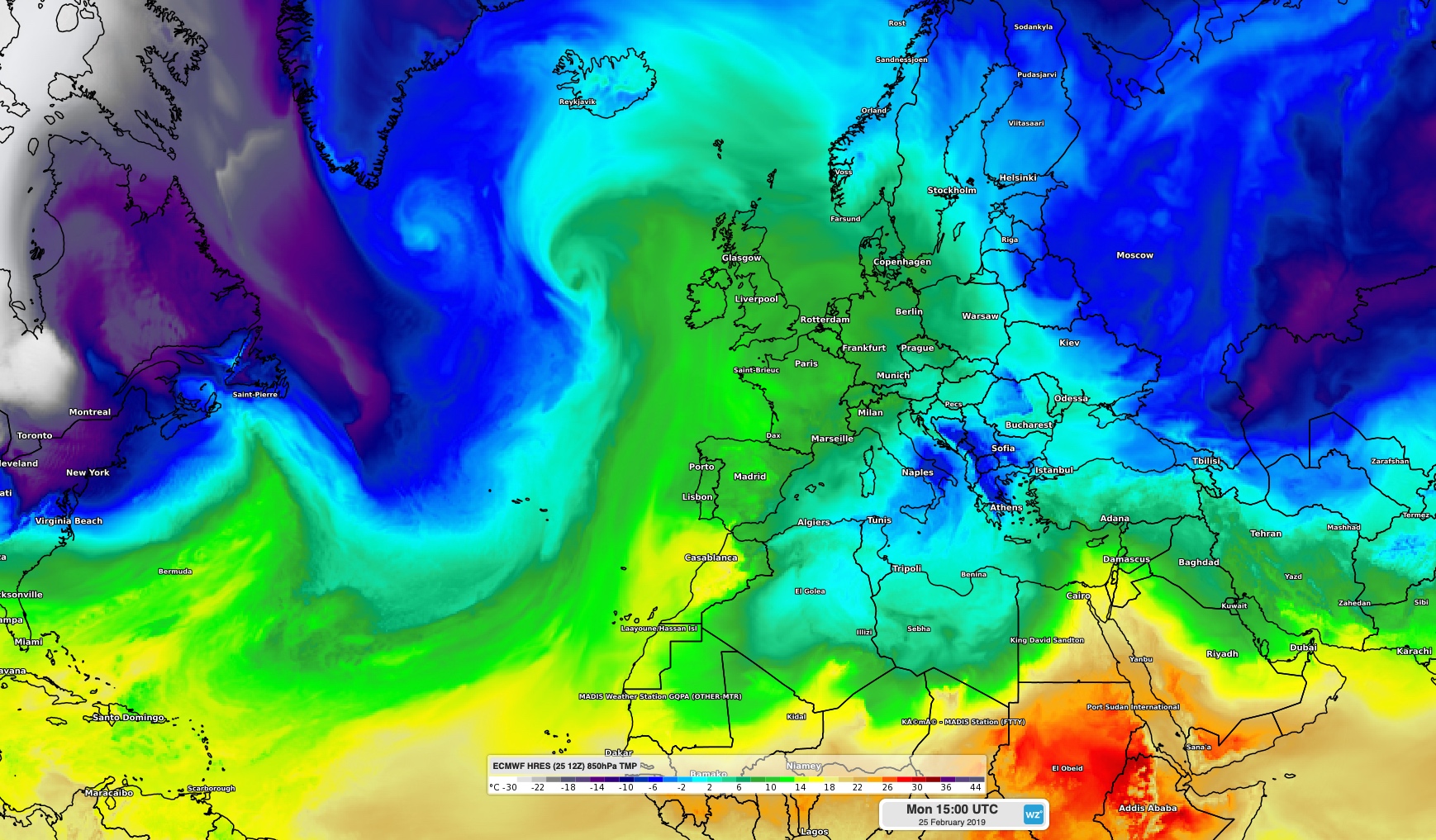 Image: ECMWF-HRES model showing warm air flowing across western Europe on Monday.
On Monday, three locations in the UK exceeded 20 degrees, the highest being 20.6 degrees at Trawsgoed in the Welsh county of Ceredigion.
It's officially the UK's warmest winter day on record; three sites exceeded 20 Celsius today with 20.6 °C at Trawsgoed, Ceredigion the highest temperature â??ï¸?ð??¡ï¸? pic.twitter.com/eMCYDUdwW7

— Met Office (@metoffice) February 25, 2019
This was the first time anywhere in the UK has exceeded 20 degrees during any winter month. The previous record was 19.7 degrees, from the Royal Observatory in Greenwich, London on February 13th, 1998.
Monday's unprecedented winter warmth comes a couple of days after Achnagart in Scotland registered a minimum temperature of 13.9 degrees on Saturday. This is the highest minimum temperature on record in the UK, beating 13.7 degrees from Aboyne, Scotland on February 13th, 1998.
The unseasonably warm air will linger over the UK for another few days, before cooler air arrives from Thursday.