Indian Ocean increasing odds of warm, dry spring in Australia
Ben Domensino, 27 August 2019
Sea surface temperatures across the Indian Ocean are settling into a pattern that's likely to promote low rainfall and high temperatures in Australia this spring.
The Indian Ocean Dipole (IOD) is an index that measures the difference in sea surface temperatures between the western and eastern sides of the tropical Indian Ocean. This index fluctuates between neutral, positive and negative phases.
A positive Indian Ocean Dipole occurs when when cooler-than-average sea surface temperatures develop to the northwest of Australia near Indonesia, while unusually warm water develops on the western side of the Indian Ocean, near the Horn of Africa. This pattern reduces the amount of moisture being transported across Australia from the northwest, which usually causes below-average rain and above-average temperatures in some parts of the country during winter and spring.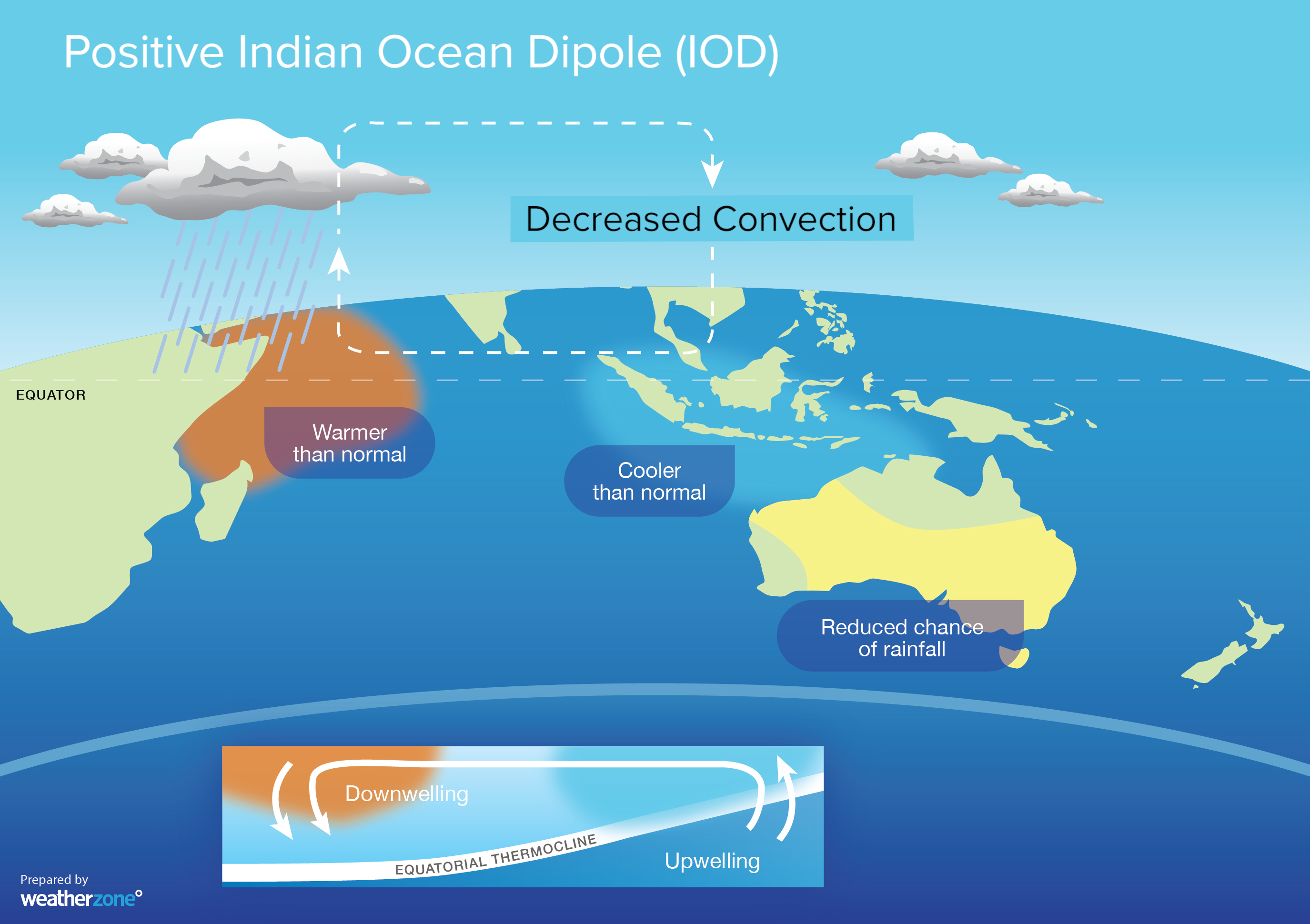 In Australia, a positive IOD event is usually declared when the index remains above +0.4 for eight consecutive weeks. Right now, the IOD value is at +1.08 and has exceeded +0.4 for the past four weeks. According to the Bureau of Meteorology, this trend is expected to continue during the next few months, meaning a positive IOD event is likely to be declared during spring.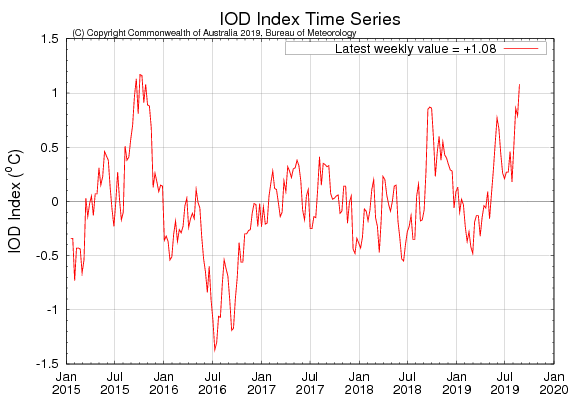 Image: Weekly Indian Ocean Dipole (IOD) index values. Source: Bureau of Meteorology
The latest weekly IOD value of +1.08 was the first time the index has exceeded +1.0 since 2015. In that year, Australia registered its second warmest spring on record at the time, while Tasmania had its driest spring on record, and Victoria its sixth driest.
Indian Ocean Dipole events usually develop around the start of winter, reach their peak between August and October and decay rapidly near the end of spring.
Visit http://www.bom.gov.au/climate/enso/ for the latest information on the IOD in Australia.