Dry air chill in Tasmania and the Top End
Ben Domensino, 25 June 2019
Darwin and Hobart both registered their lowest temperature in more than five years on Tuesday morning.
Hobar's minus 0.2 degrees shortly before 5am on Tuesday was the city's lowest temperature since 2013. It was also their third coldest morning during the last 20 years.
At the other end of the country, Darwin Airport dipped to 12.7 degrees just before 4:30am on Tuesday, which was their lowest temperature in eight years. Middle Point's 4.8 degrees was its lowest temperature since at least 2001.
While cold mornings are common in Australia during winter, this morning's chill was given a boost by dry air in Tasmania and the Top End.
Drier air allows overnight temperatures to drop further before the process of condensation starts to produce fog, dew or cloud. Because condensation releases a bit of heat into the surrounding atmosphere, its slows down the cooling process.
The dryness of air is measured by something called the 'dew point', which is the temperature at which air must be cooled to cause condensation. Lower dew points allow for more overnight cooling.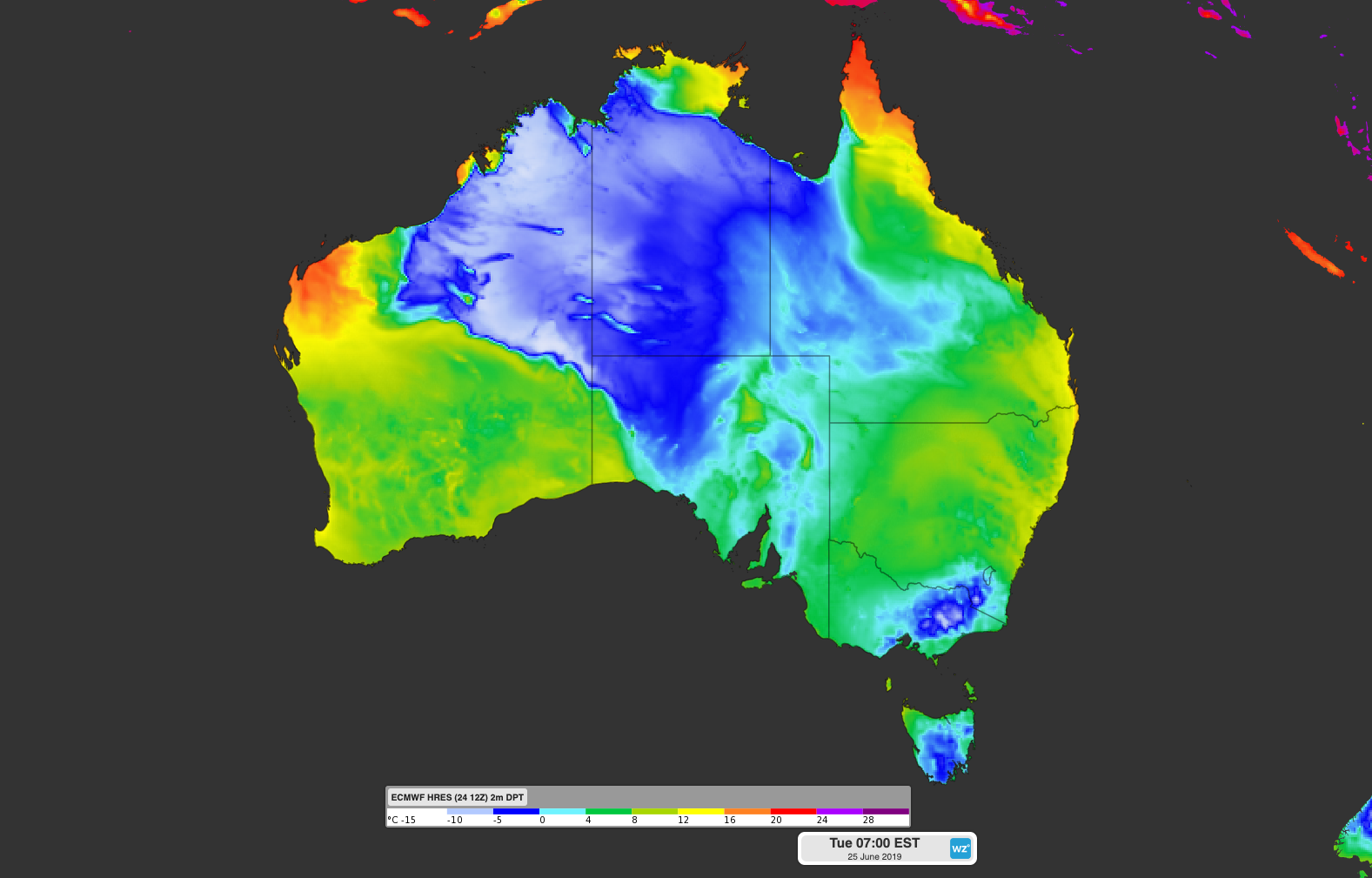 Image: Forecast dew point temperature on Tuesday morning according to the ECMWF-HRES model.
Darwin's average dew point temperature at 9am during June is 14.5 degrees. At 9am on Tuesday, the dew point was minus 2.8 degrees. This unusually dry air helped the temperature plummet in Darwin.
Hobart's dew point temperature at 9am on Tuesday was minus 0.6 degrees. This was 4.4 degrees below average for this time of year.
Darwin Airport's coldest morning on record was 10.4 degrees during July 1942, while Hobart's lowest was minus 2.8 degrees, from July 1981 and June 1972.