Wintry week ahead for southeastern Australia
Ben Domensino, 24 May 2019
A procession of cold fronts will cause snow, hail, thunderstorms, rain and damaging winds in parts of southeastern Australia during the next several days.
A relatively weak cold front is bringing a burst of showers and blustery winds to parts of South Australia, Tasmania and Victoria today. This is the first in a series of four fronts that will bring a wintry mix of weather between now and next Thursday.
Another cold front will cross southeastern Australia on Saturday, causing showers, thunderstorms and damaging winds. Cold air behind the front will allow snow to fall down to about 1,000 metres in Tasmania by Saturday evening.
The next front will sweep over the nation's southeast between Sunday afternoon and Monday morning. This system will be stronger than its two predecessors, generating heavier rain for some areas, snow to lower levels and stronger winds.
Snow is likely to reach about 700 metres above sea level in Tasmania by Sunday night and 1,400 metres on the mainland alps, possibly a bit lower. Showers, blustery winds and highland snow will linger into Monday as the front moves out into the Tasman Sea.
The fourth and final cold front of the series could be even stronger, most likely lurching over southeastern Australia on Tuesday and Wednesday. This could draw a large pool of cold air across Tasmania, South Australia, Victoria, NSW and southern Queensland.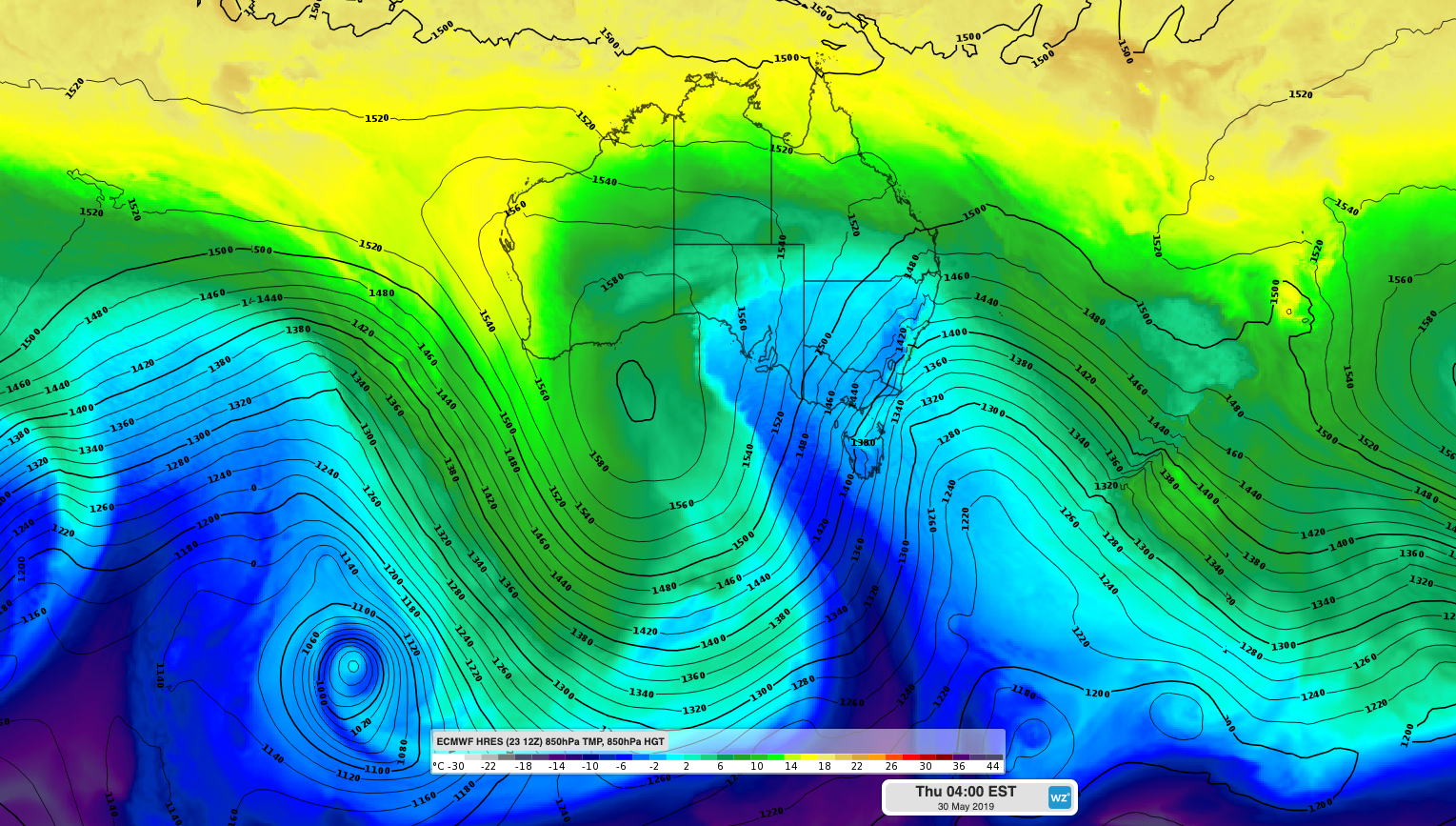 Image: ECMWF-HRES model showing cold air sweeping over southeastern Australia on Wednesday, May 30th.
Showers, isolated thunderstorms, small hail, snow and damaging winds are likely with and behind this strong front. Snow could fall to low levels in Tasmania, Victoria and southern NSW on Wednesday and Thursday. While it's still too far away to know how cold it will get with certainty, snow could settle in central and northern NSW late on Wednesday or Thursday.
Parts of Tasmania could see 30-40cm of snow between Saturday and Thursday next week, while some of the mainland ski resorts could pick up 20-30cm during this time.
The final front should move out into the Tasman Sea on Friday, making way for a large high pressure system to move in from the west. This high will bring clearer skies and lighter winds to the nation's southeast next weekend.