Winter storms soak southeast Queensland
Ben Domensino, 17 June 2019
Out-of-season thunderstorms brought more than 100mm of rain to parts of southeast Queensland during the last 24 hours.
A low pressure trough crossing the state's southeast triggered a number of thunderstorms on Sunday afternoon and evening.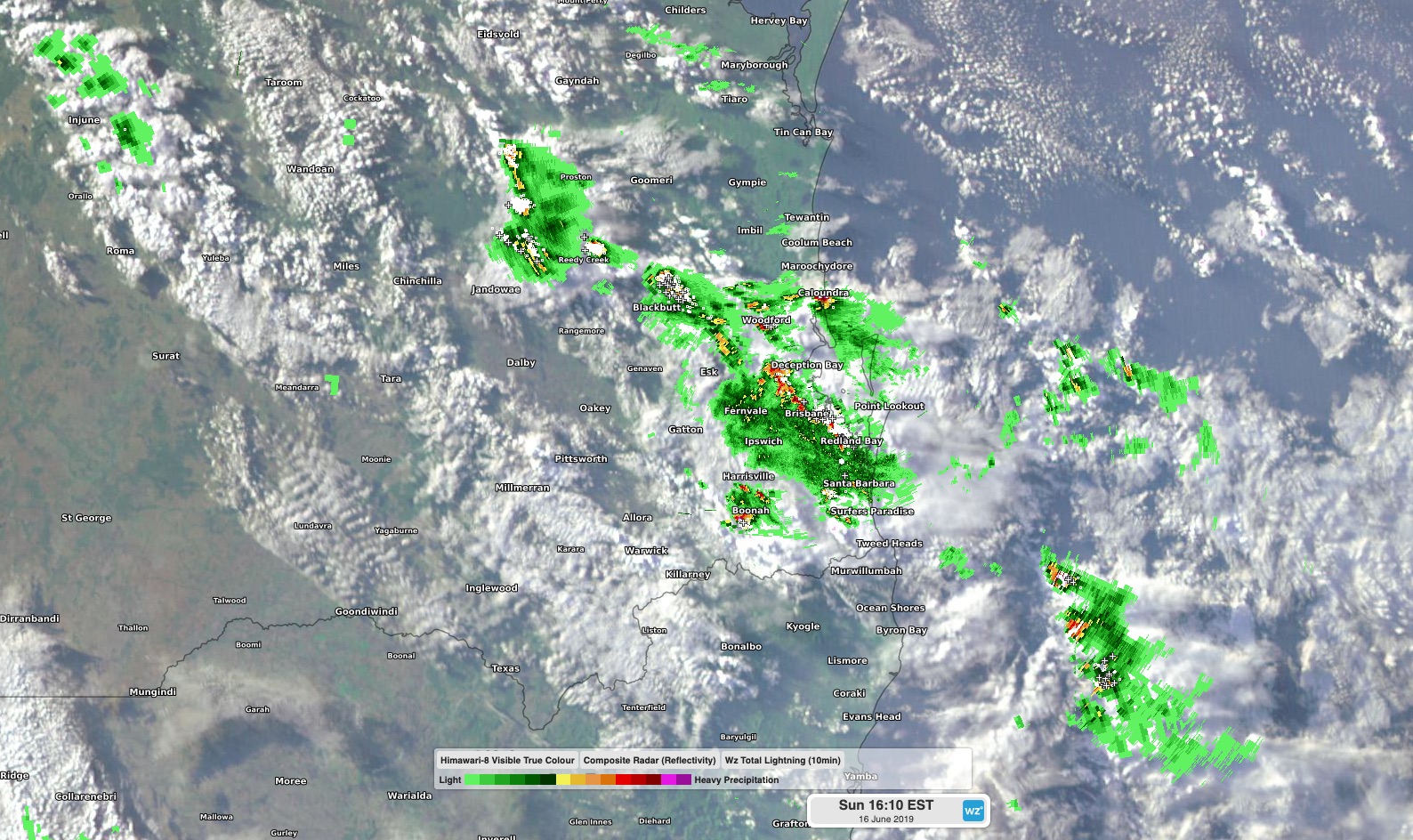 Image: Satellite and radar imagery showing thunderstorms over southeast Queensland on Sunday afternoon.
Brisbane picked up about 20mm from the storms on Sunday, including 14mm in half an hour just before 4pm. Further north, a rain gauge at Upper Lamerough, near Caloundra, received 115mm during the 24 hours to 9am on Monday.
Cape Moreton (43mm) and Sunshine Coast Airport (34mm) both saw their best June rain in three years on Sunday night.
Sunday's storms were out-of-season in southeast Queensland. The region typically experiences most of its thunderstorm activity during late spring and summer, when there is plenty of warm and moisture-laden air near the surface to fuel storm development.
During winter, drier and cooler air near the surface usually limits thunderstorm activity in southeast Queenalnd. However, unseasonably warm air drifting across southeast Queensland on the weekend helped fuel the winter storms.
Kingaroy's 25.3 degrees on Saturday was their warmest June day in 16 years. The town managed to reach 23.4 degrees on Sunday before clouds and storms arrived. Kingaroy usually reaches about 19-20 degrees at this time of year.
Moisture left on the ground after Sunday's rain helped produce fog and low cloud to the south of Brisbane on Monday morning, reducing visibility to just 100 metres at Amberley Airport at 6am.