Wild winds and waves to batter southeastern Australia
Ben Domensino, 21 August 2019
Damaging winds, blizzards and wild surf will continue to pummel parts of southeastern Australia during the next 24-48 hours.
A strong and slow-moving region of high pressure positioned over southwestern Australia allowed a series of cold fronts to sweep over the nation's southeastern states during the last four days.
Early on Wednesday morning, wind gusts of up to 148km/h were recorded off the southern tip of Tasmania behind the latest in this series of powerful fronts.
Now, severe weather warnings have been issued in parts of four states and territories as the next and final front approaches. This system will pass over Tasmania and Victoria on Wednesday night before pushing across NSW on Thursday.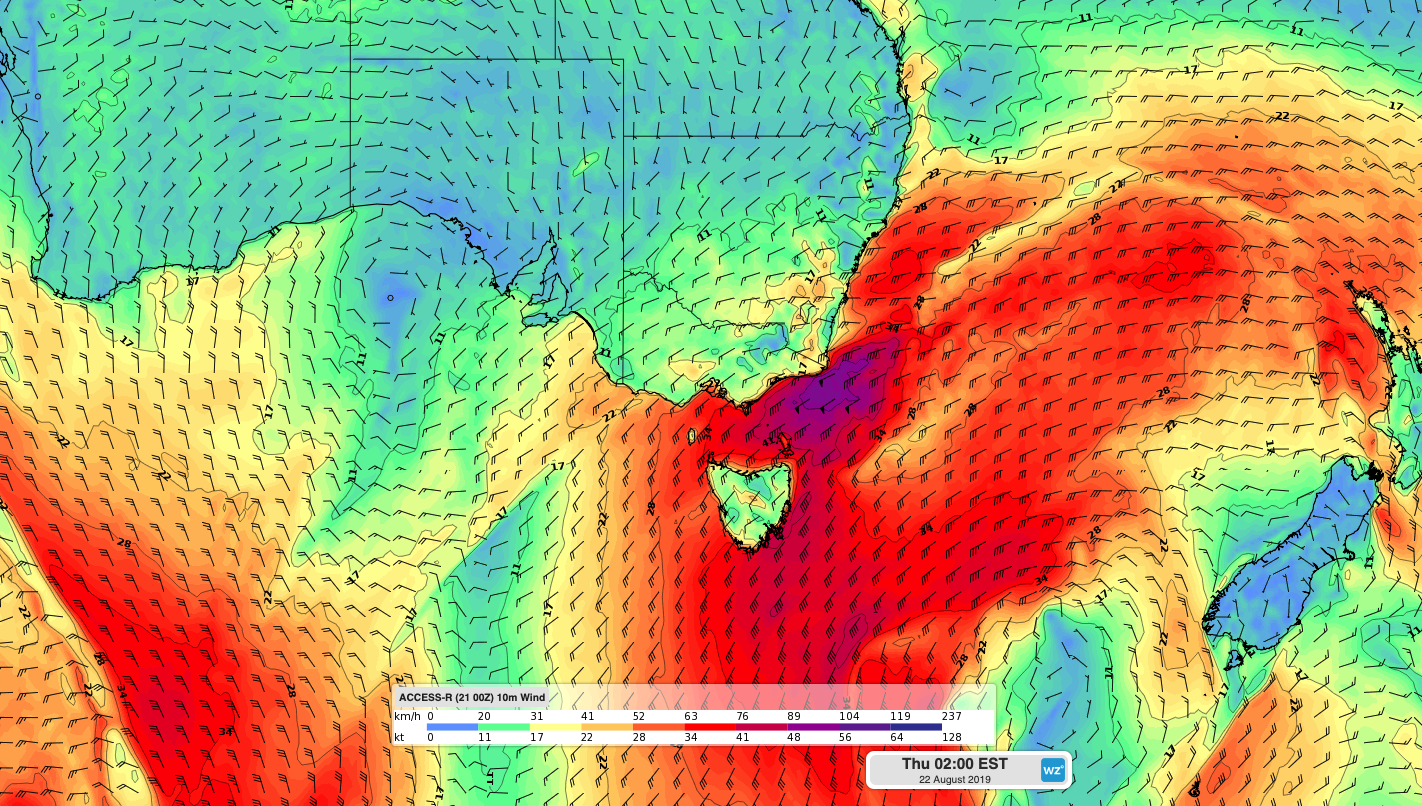 Image: Powerful winds being caused by a strong cold front on Thurdsay morning.
Damaging winds are likely to affect parts of Tasmania, southern and eastern Victoria, the ACT and NSW as the front sweeps through during the next 24 hours.
These powerful winds will also generate large waves in the Tasman Sea, which will pound the NSW coast on Thursday and Friday, particularly south-facing beaches. A severe weather warning has been issued for damaging surf along the state's coastline, with waves possibly reaching 6-7 metres in some areas from Thursday afternoon.
Wind will ease from the south on Thursday and Friday as the front moves out to the Tasman Sea, although big waves will linger into the weekend along parts of the NSW coast.
This weather event is likely to cause dangerous weather on land and at sea across a broad area of southeastern Australia on Wednesday night and Thursday. Be sure to keep up to date with the latest warnings.