The difference a little cloud makes
Joel Pippard, 15 June 2019
Some towns in New South Wales have woken up to wildly different morning temperatures thanks to a cloudband over the northeast.
An extra blanket was definitely needed in the Hunter and Central Tablelands as both Cessnock and Mudgee frosted through a morning six degrees colder than their June averages. Cessnock dipped just below freezing at -0.6C while Mudgee frosted to -3.4C. Scone (-0.3C) and Merriwa (-1.0) were also five degrees below average.
The opposite was true in the states northeast, as Lismore endured a morning eight degrees above the June average, only falling to 16C. Even the typically cooler inland town like Grafton (14C) and Casino (15C) were seven degrees above average.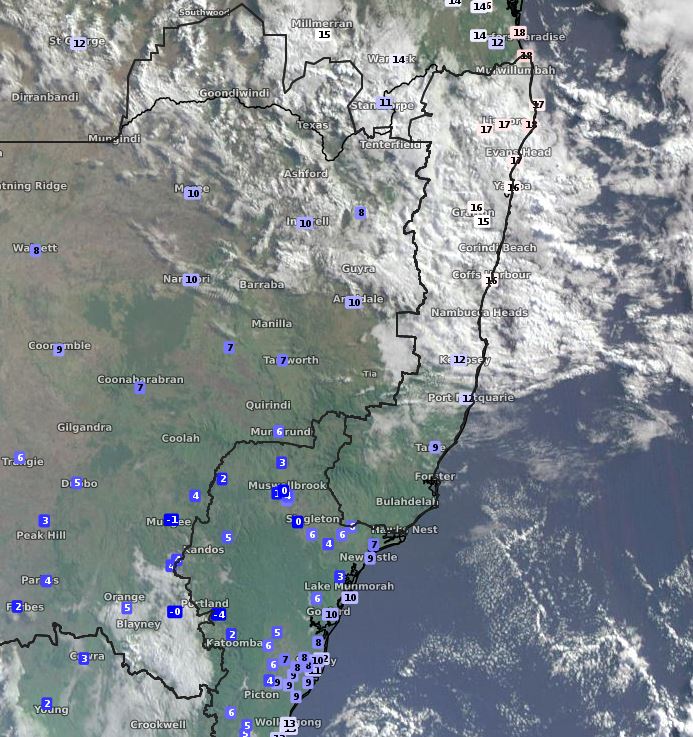 Image: Temperatures and cloud at 8am on Saturday morning
The difference came from a cloudband cutting over the northeast corner of NSW and southeast Queensland. This band also produced some scattered showers, with Baryulgil recording 16mm and Evans Head picking up 12mm in the gauge. In the south, high pressure dominated, clearing the skies for temperatures to plummet.
The cloudband that brought the winter relief will move offshore on Saturday, but a coastal trough forming from it should bring some showers to coastal NSW.