Stormy week in Queensland
Ben Domensino, 8 October 2018
Severe thunderstorms may develop in Queensland each day this week.
On Monday, the Bureau of Meteorology issued numerous severe thunderstorm warnings in the state's southeast. This included one particularly intense supercell thunderstorm that moved north between Maleny and Cooran in the early afternoon, prompting the Bureau to issue a warning for destructive winds and very large hail. Another severe thunderstorm hit Gympie at around 4pm EST.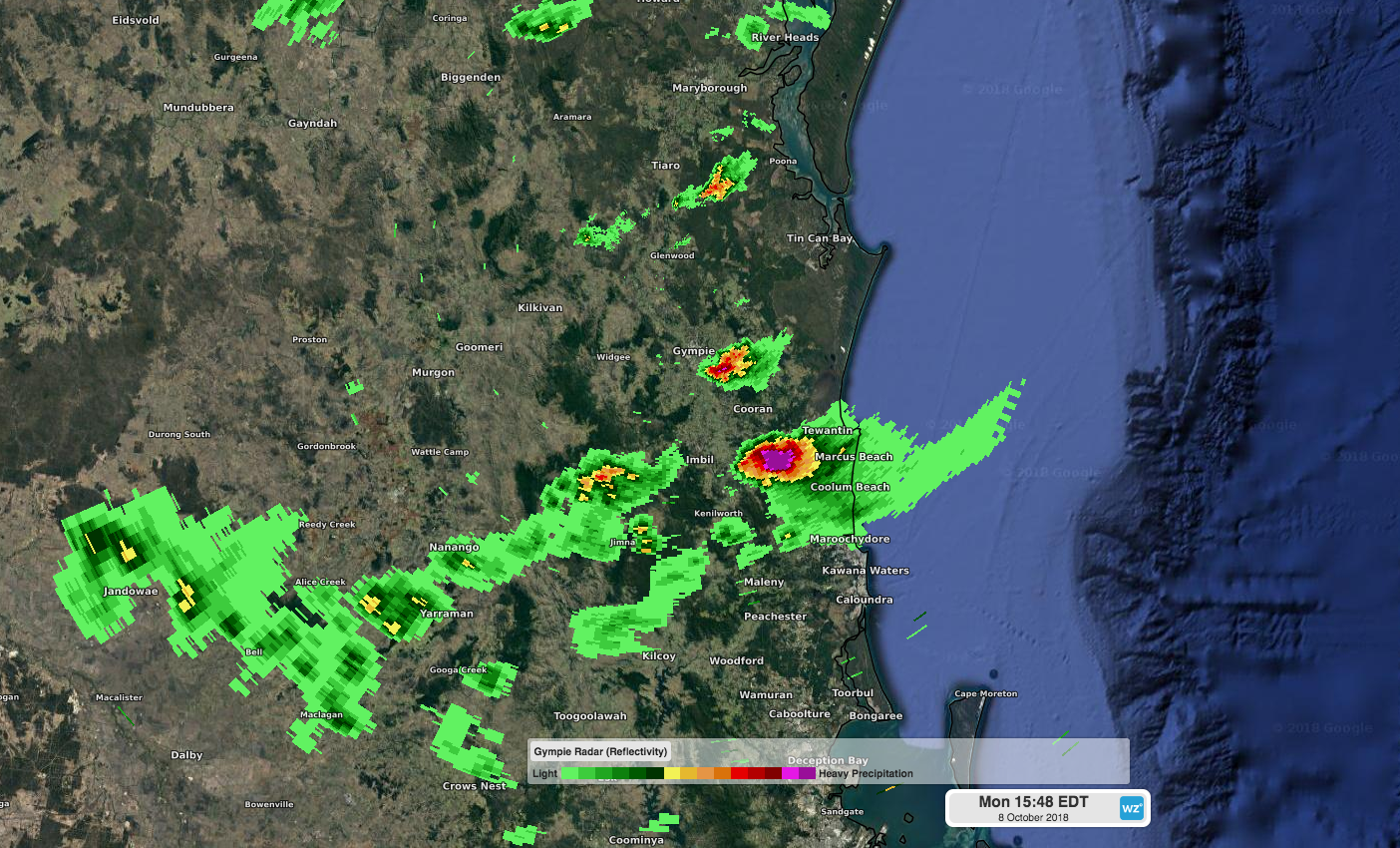 Image: Reflectivity radar showing a supercell thunderstorm to the south of Cooran, Qld on Monday afternoon.
Monday's storms were due to a low low-pressure trough that combined with warm and moisture-laden air from the Coral Sea.
As the week unfolds, a series of upper-level troughs and a broad, slow-moving through near the surface will continue to trigger daily showers and thunderstorms across Queensland.
Storms will mainly affect the state's southeast and central inland during the first half of the week, although from Thursday, thunderstorms should clear the southeast and become more widespread over central and northern parts of the state.
Some forecast models indicate that the passage of an upper trough may lead to areas of moderate to heavy rain in parts of central Queensland from Friday, although it's still a bit too early to know where and how much rain will fall with this system.
Intense thunderstorms are common in Queensland at this time of year, as the air over eastern Australia becomes loaded with more moisture and rising surface temperatures lead to increased atmospheric instability. Moisture and instability are two of the three key ingredients required for thunderstorm development, the third being a lifting mechanism, which in this case is a low pressure trough.