Spring see-saw in full swing for NSW
Ben Domensino, 4 September 2019
Temperatures will drop by more than 10 degrees in parts of NSW later in the week as a cold front sweeps across the state.
A burst of early-season warmth pushed temperatures into the low-to-mid thirties in parts of western NSW during the middle of this week. This warm air was carried across the state by northerly winds, which developed ahead of an approaching cold front.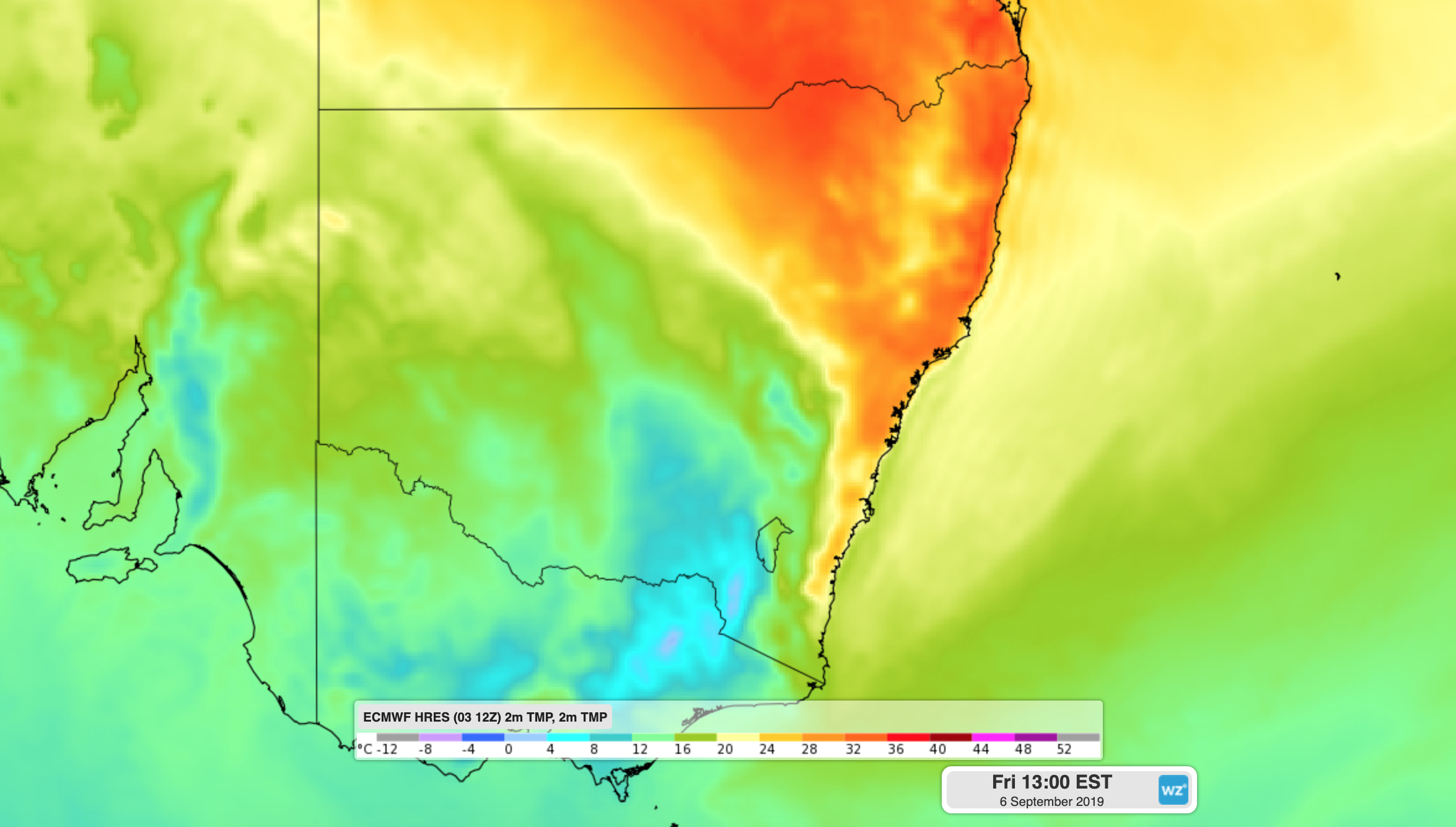 Image: Warm air being displaced by cooler air over NSW on Friday.
Cobar is forecast to reach 30 degrees on Wednesday and 33 degrees on Thursday, well above the long-term average of 22 degrees for September.
The approaching front will sweep into southwestern NSW on Thursday night and progress across the state from west to east on Friday, reaching the northeast in the evening.
Areas of western NSW that have been hitting the low thirties through the middle of this week should see maximums pegged back to the high teens from Friday. Cobar is forecast to reach only 18 to 19 degrees between Friday and Sunday.
Sydney is forecast to reach 27 degrees on Friday ahead of the front, before dropping to a windy 19 degrees on Saturday.
This is a typical weather pattern for this time of year, with warm air sitting over NSW for a few days before a cold front brings an abrupt drop in temperatures. During early spring, temperatures start to rise over inland Australia, while cold water still surrounds much of the country. This contrast in temperature causes cold and warm air masses to clash over the continent.
Blustery winds near Friday's front are also likely to elevate fire danger ratings in some areas and may cause dust storms across the state's central and northern inland.
The front will bring some rain and a few storms in southern and central NSW on Friday and Saturday, mainly west of the ranges. Some of this precipitation will fall as snow on the southern ranges and possibly higher parts of the Central Tablelands.
This system may cause severe weather, so keep up to date with the latest warnings later in the week.