Southern Ocean chill heading for southeastern Australia
Ben Domensino, 28 May 2019
A strong cold front will bring rain, hail, thunderstorms, damaging winds and low-level snow to Australia's southeastern states during the next two days.
A large mass of cold air surging out of the Southern Ocean will move over Tasmania on Tuesday and spread across Australia's southeast mainland during Tuesday night and Wednesday.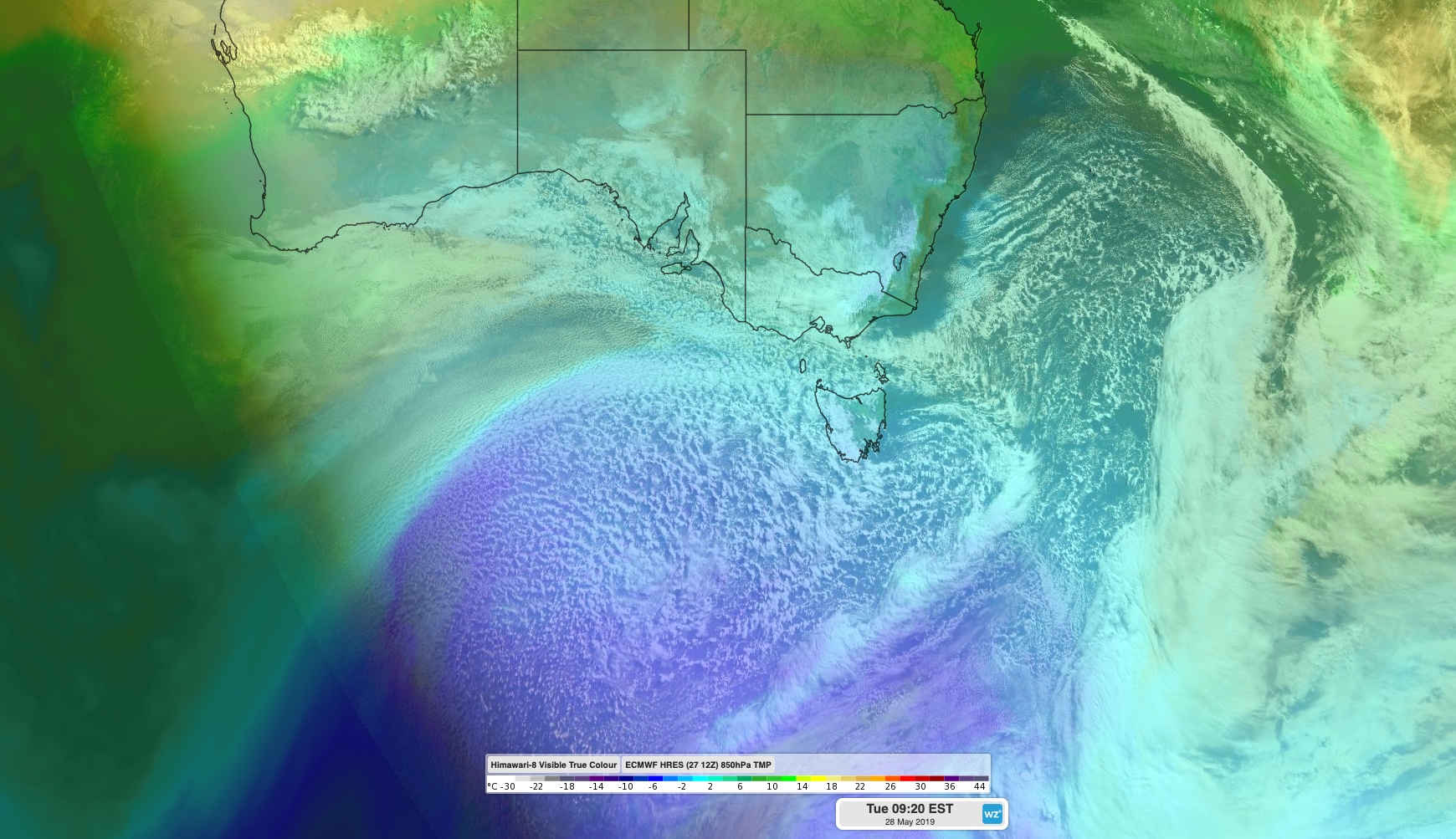 Image: Himawari-8 visible satellite image combined with modelled 850hPa temperatures showing one cold front heading across the Tasman Sea as the next pool of cold air surges up from the Southern Ocean.
This burst of cold air will be accompanied by blustery winds, with severe weather warnings for damaging gusts in place for parts of Victoria and NSW as of 9am on Tuesday.
While damaging winds are likely to develop in some low-lying populated areas, the strongest gusts will occur on the peaks of the mainland alps. Areas above 1,900 metres are likely to experience blizzards with gusts in excess of 125km/h. The NSW National Parks and Wildlife Service advises against travelling in the alpine back country until these winds ease from Wednesday.
Showers and thunderstorms will affect parts of Tasmania, Victoria, SA, NSW and the ACT on Tuesday and Wednesday ahead of, with, and behind this strong frontal system.
This rain will be falling as snow on the higher parts of the alps during Tuesday, before reaching lower levels in multiple states on Wednesday as the Antarctic-borne air moves in.
Snow is forecast to reach down to an elevation of 500 metres in Tasmania from Tuesday night into Wednesday. On the mainland, snow could reach 600 metres in Victoria and 700 metres in southern NSW and the ACT on Wednesday. Further north, the NSW Central Tablelands will see their second round of snow in three days on Wednesday, with flakes possible in the Blue Mountains near Sydney.
The mix of cold and windy weather has also prompted sheep graziers warnings, road weather alerts and bush walker's alerts in parts of NSW, Victoria, SA and Tasmania.
Wind and showers will taper off from Thursday as the front moves out into the Tasman Sea.
This latest round of wintry weather is the last in a procession of cold fronts that have crossed southeastern Australia since Friday.
Some ski resorts have already seen 20-40cm of snow during the last three days, with more on the way during the next 72 hours.
Monday was Canberra's coldest May day in 19 years, with the city only reaching a top of nine degrees. The mercury will struggle to reach 10 degrees in the nation's capital on Tuesday and Wednesday as well.