Southeastern Australia set to swelter
Joel Pippard, 25 December 2018
Temperatures will start taking a steep climb over the southeast from Boxing Day as a severe-to-extreme heatwave takes hold.
Hot air is being filtered down from the scorching Pilbara in Western Australia and is creeping over South Australia, Victoria, Tasmania and New South Wales to cap off 2018.
Very hot conditions look to last until at least New Years Day, potentially making for a full week of extreme heatwave conditions for some.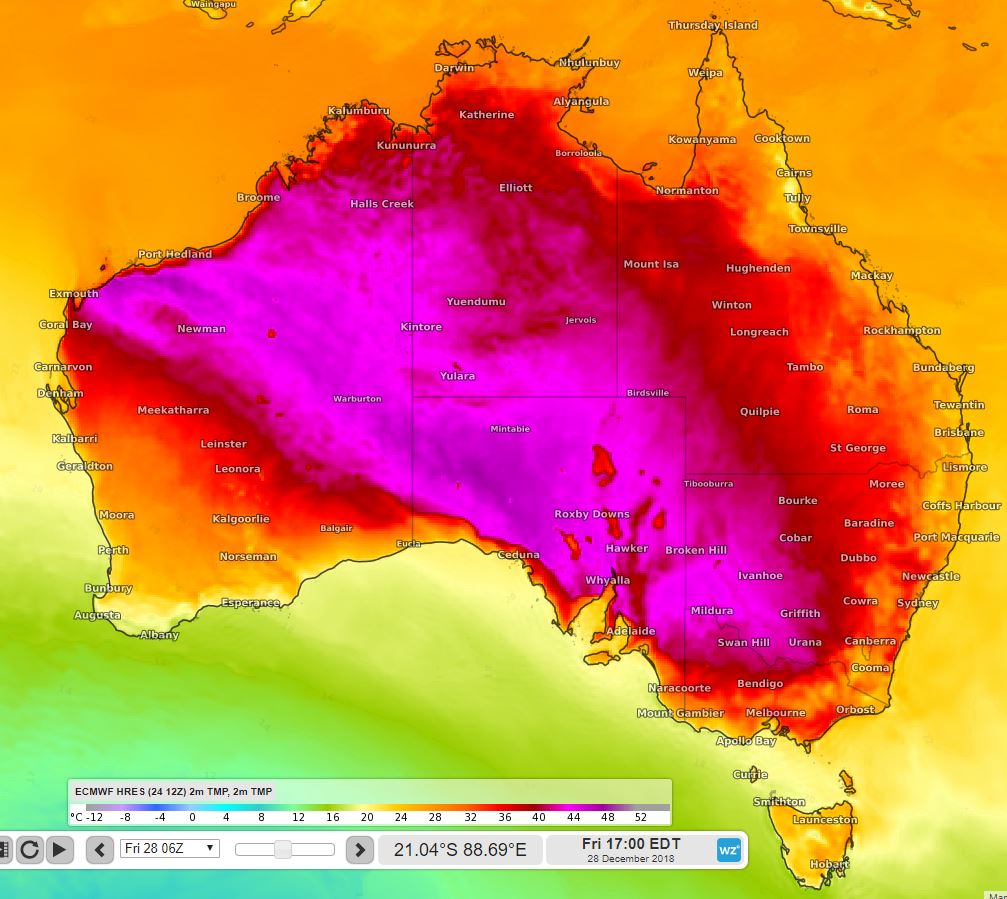 Image: ECMWF showing suface temperatures this Friday 28th
Heat will be most extreme and abnormal around the NSW and VIC border region. Here, many places are expected to challenge their current site December records for the hottest day. Mildura (45.1C in 2005), Broken Hill (44.2C in 2005), Wagga Wagga (43.2 in 1953) and Canberra (39.2C in 1994) are all at risk of having their December records falling (all have more than 50 years of data), most likely on Sunday 30th.
With this prolonged daytime heating, nights will also become very uncomfortable, particularly from Friday. Overnight minimums could possibly be as high as 29 degrees in Mildura on Saturday. Generally, the days and nights are all expected to be 8-12 degrees above average across this border region.
This heat will more broadly affect the southeast of Australia as well. Adelaide reached 36 degrees yesterday (Christmas Eve) and will hover in the mid-to-high thirties each day until New Years Eve - seven days in total. Western Sydney could see four consecutive days of 40+ degrees from Friday to Monday, and Launceston in TAS should see six days in a row of temperatures five degrees above average (27 degrees or hotter each day).
This prolonged heat is due to a vast low pressure system extending from WA over the southeast. In addition, a 'blocking' (very slow-moving) high pressure system over the Tasman Sea is keeping the heat trapped inland.
Under these extreme conditions, all members of the community are susceptible to heat-related illness, but particularly the most vulnerable. It is important to stay hydrated and keep out of the sun for long periods.