Severe wintry weather in southeastern Australia
Ben Domensino, 10 July 2019
Cold, wet and windy weather is returning to Australia's southeastern states this week thanks to a pair of strong cold fronts.
The first of two fronts will sweep over the country's southeastern states on Wednesday and Thursday.
This system prompted warnings for damaging winds in parts of South Australia, Tasmania, Victoria, NSW and the ACT. Showers will also affect all of these states and territories with the passage of the front, with hail and snow likely in some areas during the next 36 hours.
Snow could fall down to 900 metres above sea level in parts of Tasmania and Victoria and around 1,000 metres in southern NSW by Thursday morning.
The next, stronger front will pass over southeastern Australia on Friday and Saturday. This system will also cause damaging winds in multiple states and territories and should produce more widespread rain, snow and hail.
Snow could reach down to 500-600 metres in Tasmania on Friday night and Saturday morning. Further north, the air could be cold enough for snow to reach 700-800 metres in Victoria and southern and central NSW by Saturday morning.
This week's fronts are also bringing a resurgence of snow in the alps, following a string of stagnant weeks during June and early July.
The natural snow depth at Spencers Creek, located between Charlotte Pass and Perisher, has hovered around 30-50cm for the last five weeks. This week's fronts could help push this depth towards one metre for the first time this season.
A third front could clip Tasmania and Victoria on Sunday, although this system won't push as far north as its predecessors, limiting the extent of its impacts.
Some areas in western Tasmania could see 100-200mm of rain between Wednesday and Sunday, while 30-60mm is possible about the ranges in northeast Victoria and southern NSW.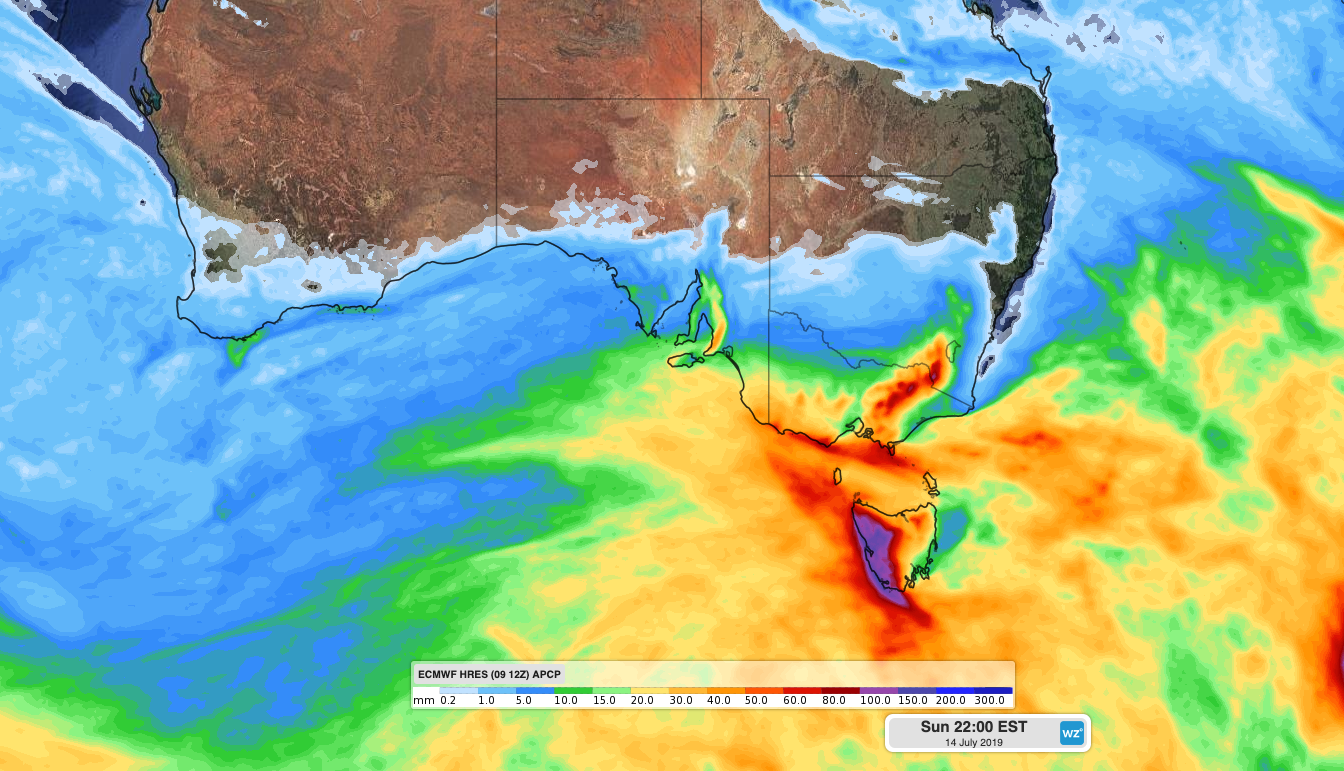 Image: Accumulated rain predicted between Wednesday and Sunday.
Parts of South Australia, Tasmania, Victoria, southern NSW and the ACT should receive 10-20mm of rain from this week's front, particularly areas exposed to westerly component winds.
Visit https://www.weatherzone.com.au/warnings.jsp for the latest warnings.