Seas start to swell off the East Coast
Joel Pippard, 5 May 2019
Waves and swell are on the rise off the east coast as a Tasman Low becomes planted.
The system that brought the welcome rain to the Murray-Darling Basin during the week has moved offshore over the Tasman Sea. As it has been stopped by a high over New Zealand, it is starting to spin up large waves and swell and pumping them towards the southern New South Wales coastline.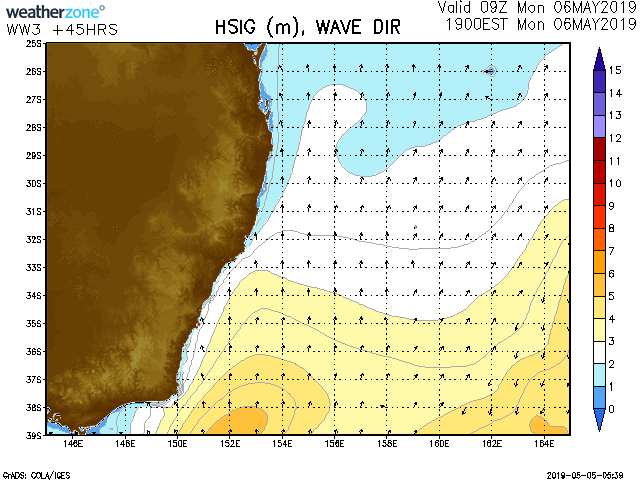 Image: Significant wave heights and direction on Monday afternoon
This has prompted a hazardous surf warning from the Bureau of Meteorology for the Illawarra, Batemans, and Eden Coasts for Monday. This means that people should take extra caution doing activities such as rock fishing, boating, and swimming.
However, it will make for some fun but challenging surfing conditions for advanced boardriders down the NSW south coast. Conditions will be more manageable at Sydney beaches with a pleasant water temperature of 22 degrees.
Waves will become rather flat towards the end of the week as the Tasman Low gets pushed out by a large high pressure system.