Possible December Heat Record
Lachlan Maher, 26 December 2018
With temperatures in Marble Bar forecast to reach 49 degrees, it's possible that it may challenge Australia's current December heat record.
A broad region of heat has been building over the Pilbara for the last few days. It has resulted in a spate of extremely hot days - relative even to the hot averages the region usually experiences. While the heat looks to be dragged towards the southeast of the nation over coming days, this is not stopping it from pushing records in Western Australia.
Marble bar is possibly one of the worst affected places in terms of heat, temperatures have been steadily climbing above average for a week, culminating in a forecast that could be 7 degrees above average. While this doesn't sound too bad, the average December maximum for the site is 41.8 degrees, meaning that the forecast is 49 degrees.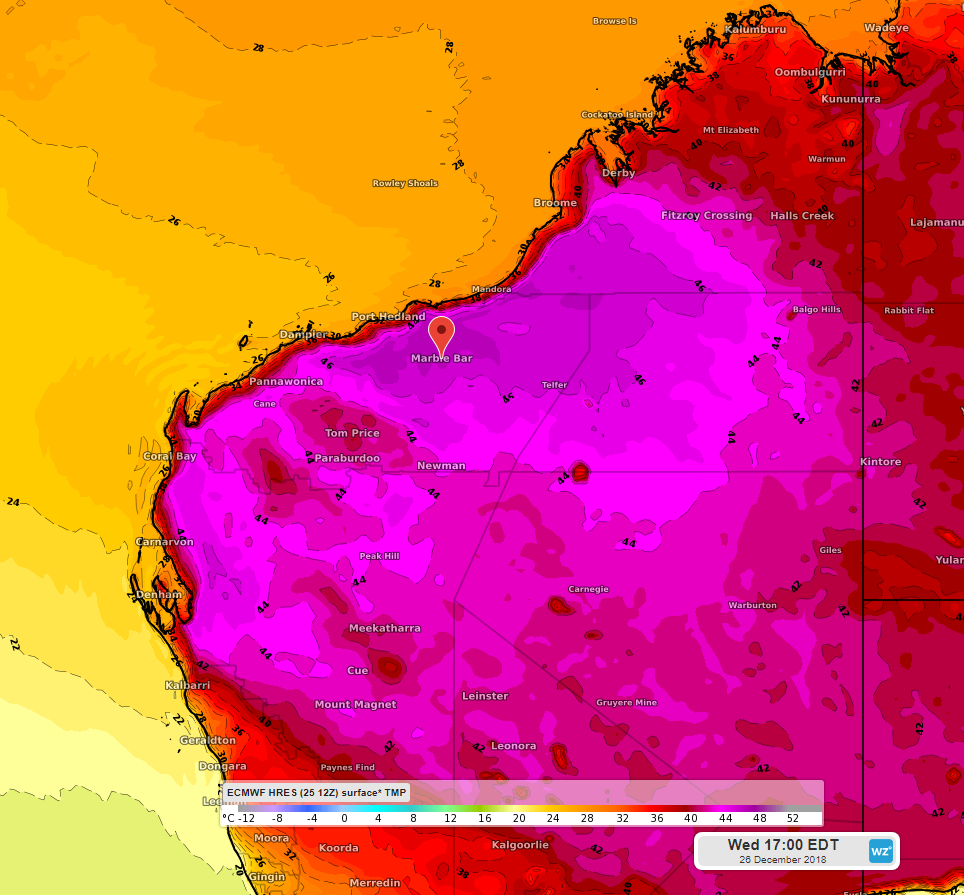 Image: ECMWF showing forecast maximum temperatures this afternoon
A maximum of 49 degrees puts Marble Bar on track to challenge the current heat record for December, which is a blistering 49.5 degrees recorded at Birdsville on the 24th December, 1972. Furthermore, the current December record is the 9th warmest day recorded in Australia, and thus Marble Bar's maximum could be one of the hottest days recorded within Australia. Regardless of it breaking any records, Marble Bar is likely to be the hottest place on the planet this Boxing Day.
At Marble Bar, it is too early to say whether or not it will break the record. However, as temperatures were over 40 degrees by 8am, and have been climbing since, it will certainly be an exceptionally hot December day. Fortunately for those who dislike such extremes, temperatures look to return to the more average conditions of the low forties by the end of the week.