Monsoon deluge filling dams in northern Queensland
Ben Domensino, 30 January 2019
Monsoonal rain has inundated parts of central and northern Queensland during the last 24 hours, pushing dams to capacity as rivers experience major flooding.
A southward moving monsoon trough caused widespread falls of 100-300mm between Ingham and Mackay during the 24 hours to 9am on Wednesday.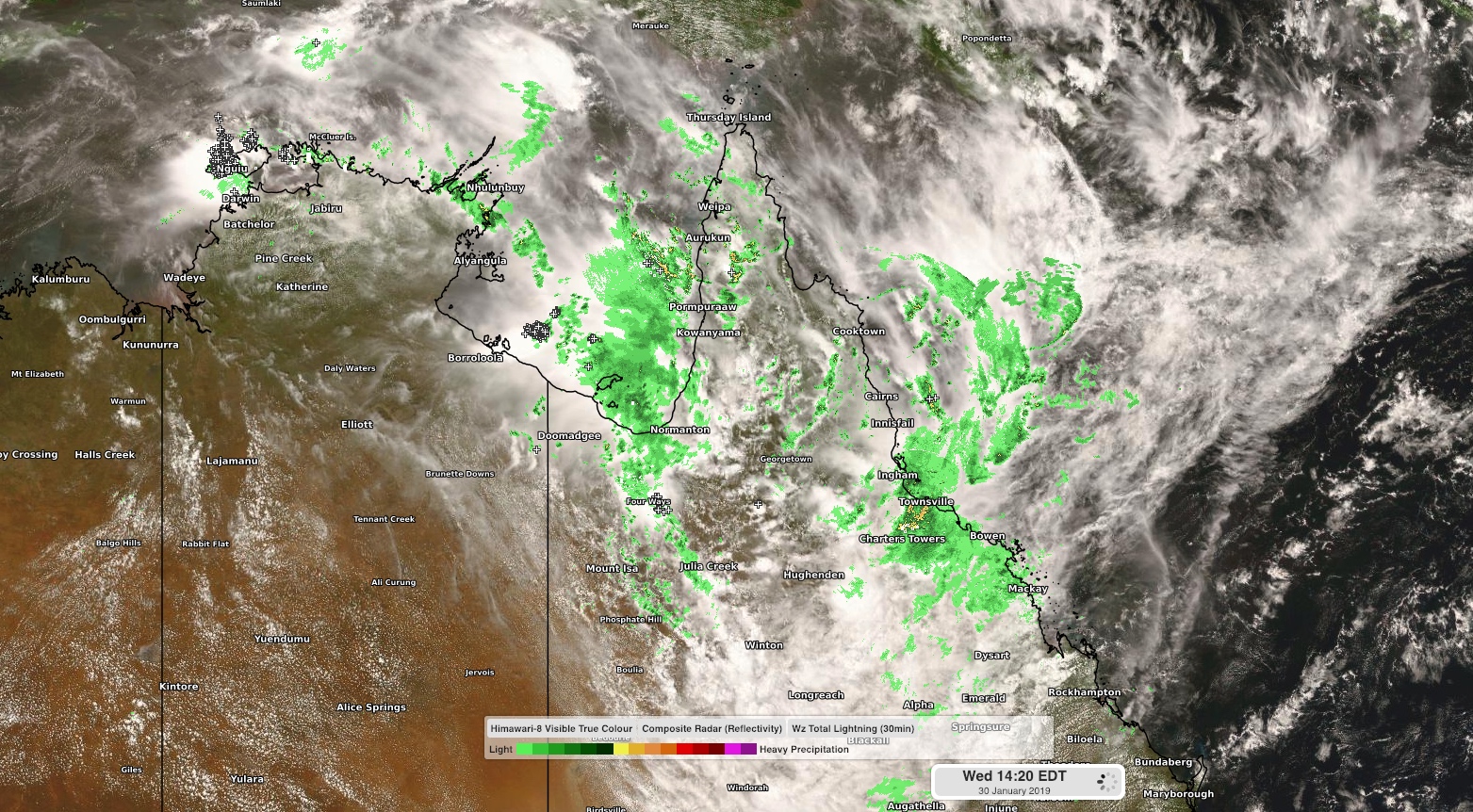 Image: Monsoon rain and thunderstorms in northern Queensland on Wednesday.
One of the heaviest falls in the region during the last 24 hours was 370mm at Paluma, to the north of Townsville. This torrent of rain caused Paluma Dam to reach 106 per cent of its capacity at 7am local time on Wednesday.
North of Mackay, Sandy Plateau received 375mm during the 24 hours to 9am on Wednesday, which brought their two-day total to a whopping 763mm.
Other notable totals during the 24 hours to 9am on Wednesday included 375mm at Sandy Plateau and 275mm at Forbes Road, both located to the north of Mackay.
Unsurprisingly, a number of rivers are experiencing major flooding today and the Bureau of Meteorology have issued numerous flood watches. A flood watch also remained in place on Wednesday for coastal catchments from Daintree to Mackay, the western Cape York Peninsula and eastern Gulf of Carpentaria catchments.
In addition to riverine flooding, heavy monsoonal rain and thunderstorms were causing flash flooding in parts of the Herbert and Lower Burdekin and North Tropical Coast districts on Wednesday afternoon. A rain gauge at Upper Black River received 158mm in just two hours, which is more than half of nearby Townsville's average monthly rain during January.
In Townsville, the airport's 109mm of rain during the 24 hours to 9am Wednesday brought the running monthly total to 293mm. This is now Townsville's wettest January since 2010.
The Ross River Dam was filling up rapidly on Wednesday morning in response to this rain and had reached 98 per cent of its capacity by 11am AEST, rising by more than 30 per cent in matter of hours.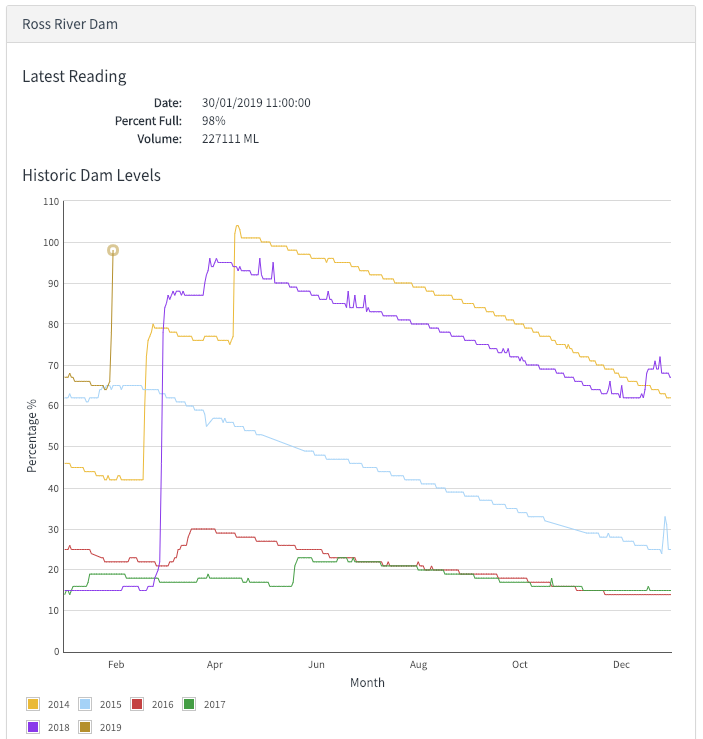 Image: The Ross River Dam reached 98% of its capacity for the first time since 2014 on Wednesday. Source: Townsville City Council.
This is the fullest Ross River Dam has been since 2014.