Lightning causes new fires in NSW
Ben Domensino, 27 November 2019
The number of fires burning in NSW has increased by nearly 50 percent during the last 24 hours, after thunderstorms swept across the state on Tuesday.
The passage of a low pressure trough and cold front caused a broad line of thunderstorms to move over NSW on Tuesday. These fast-moving storms only produced light rain in most areas, along with widespread lightning and powerful wind gusts.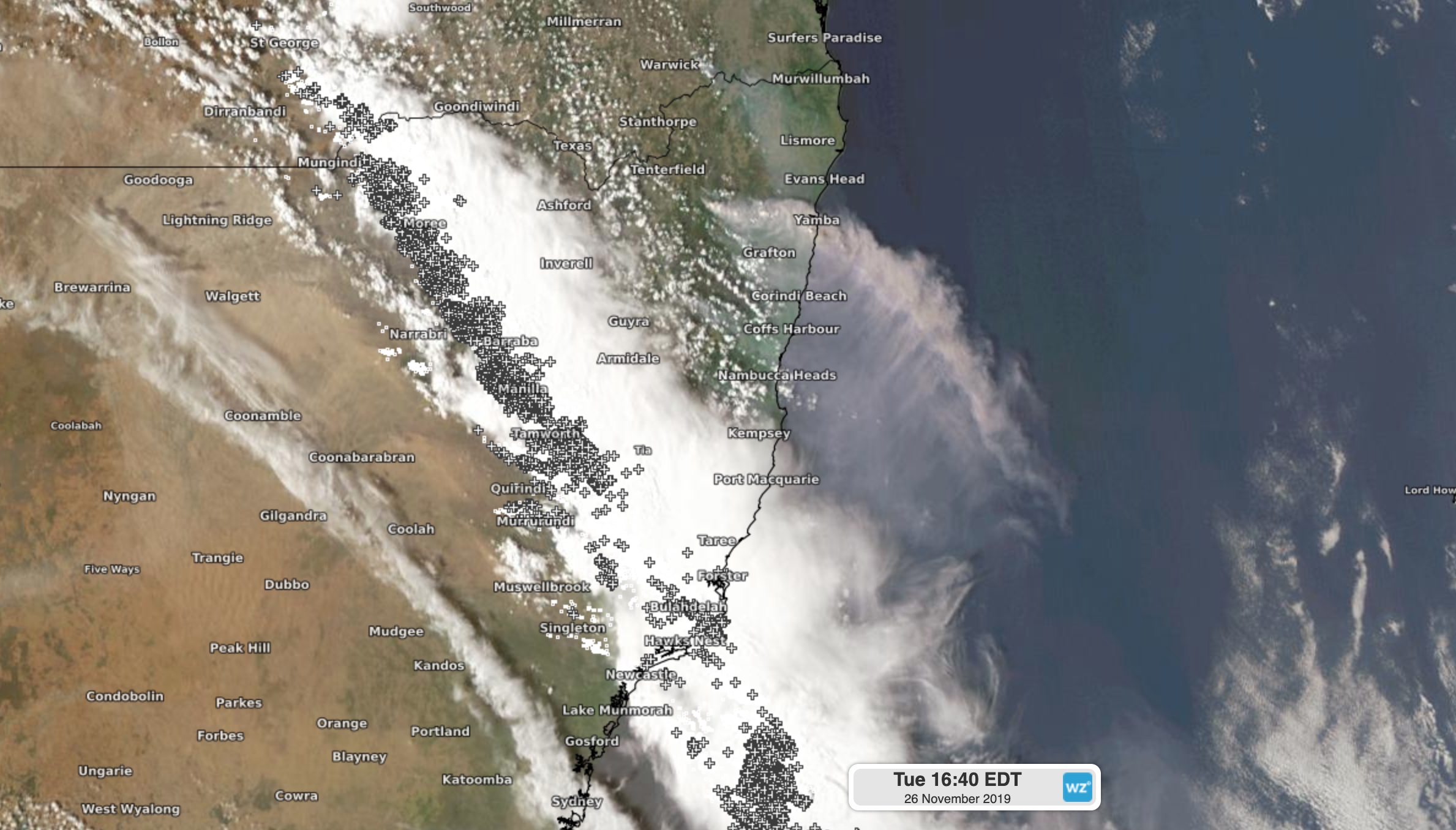 Image: Thunderstorms moving over NSW on Tuesday, with a plume of smoke visible over the state's northeast.
A total of 96,000 lightning strikes were detected within a 200km radius of Armidale on Tuesday. Around 19,000 of these occurred as ground strikes, with the rest of the lightning remaining inside the clouds.
At 12:30pm on Tuesday, there were 87 grass and bushfires in NSW according to the Rural Fire Service. By 4:30pm, only four hours later, there were 124 fires burning across the state. This number had risen to 129 fires by 8:30am on Wednesday.
At 8.30am there are 129 fires burning, 66 are uncontained. One fire is at Watch and Act level. More than 1,800 personnel are working to contain these fires. Severe and High Fire Danger Ratings continue over much of the state today. #nswfires #nswrfs https://t.co/oTrzcu7HDR pic.twitter.com/L1IiXiUBqb

— NSW RFS (@NSWRFS) November 26, 2019
Around 1,800 personnel were working to contain the fires in NSW on Wednesday, just four days out from the start of summer.
Drier weather will return to most of NSW on Wednesday as the front moves out into the Tasman Sea and the storm-bearing trough shifts north into Queensland. However, stormy weather will return to eastern NSW later in the week.