Heavy rain, strong winds loom for eastern Queensland
Ben Domensino, 7 January 2019
Ex-Tropical Cyclone Penny could bring a burst of heavy rain and strong wind to parts of Queensland's east coast during the next few days.
After being downgraded to a low pressure system about 1,100km to the east of Cairns on Saturday evening, Ex-Tropical Cyclone Penny is now moving back towards Queensland.
The system is expected to cause rain and wind to increase along Queensland's central coast from Monday night or Tuesday morning, initially over parts of the Central Coast and Whitsundays District and possibly northern areas of the Capricornia District. As the low nears the coast on Tuesday, it may turn towards the north and cause heavy rain and strong winds to spread into the Herbert and Lower Burdekin District during Wednesday.
While there is still room for this forecast to change, both in terms of the system's location and strength, the low pressure system is currently not likely to re-intensify into a tropical cyclone before reaching the coast.
As a low pressure system, Ex-Tropical Cyclone Penny could produce localised falls of 100-200mm along parts of the coast and adjacent inland. Much of this rain could fall in 6-12 hours, particularly near and to the south of the centre of the low as it nears the coast. In addition to the rain, wind gusts could reach 90-100km/h in exposed coastal areas.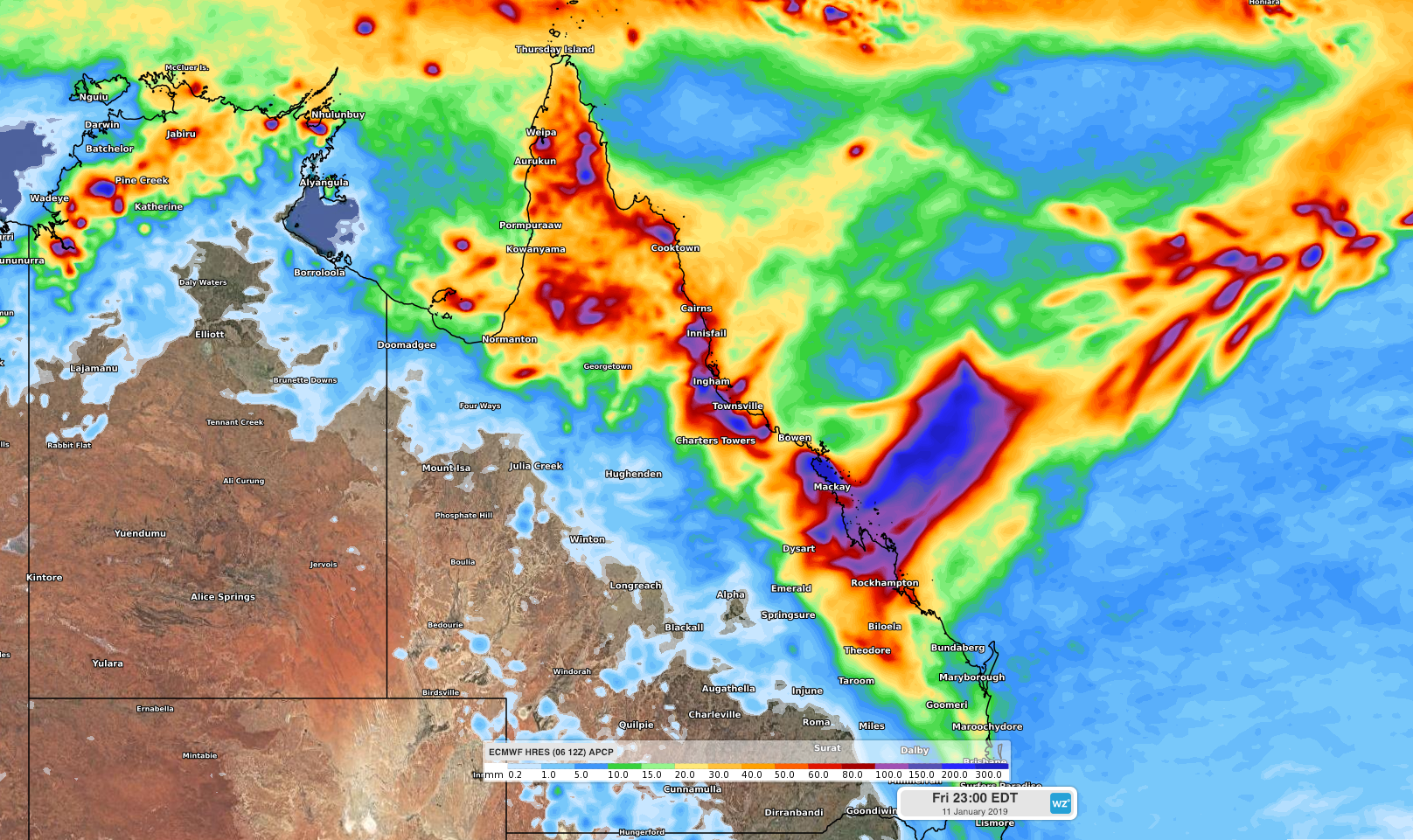 Image: Forecast accumulated rainfall between Monday and Friday this week, according to the ECMWF HRES model.
A severe weather warning has been issued for heavy rain and damaging winds in parts of the Herbert and Lower Burdekin and Central Coast and Whitsundays Forecast Districts. However, this warning area may be expanded during the next few days.
The moisture from Ex-Tropical Cyclone Penny will also contribute to more widespread showers and thunderstorms over central and northern Queensland throughout the week. Keep up to date with severe weather and thunderstorm warnings for the latest information and alerts.