Fire threat lingers in Victoria until mid-week change
Ben Domensino, 4 March 2019
Victoria firefighters will face tricky weather during the next two days, before a strong cool change sweeps across the state on Tuesday night.
A number of bushfires burnt across central and eastern Victoria between Friday and Sunday, amid a spell of unseasonably hot, dry and windy weather. Some of these fires were ignited by dry lightning - thunderstorms without rain - while other fires produced their own lightning from towering pyrocumulus clouds. Sadly, the weekend's bushfires destroyed a number of homes and properties.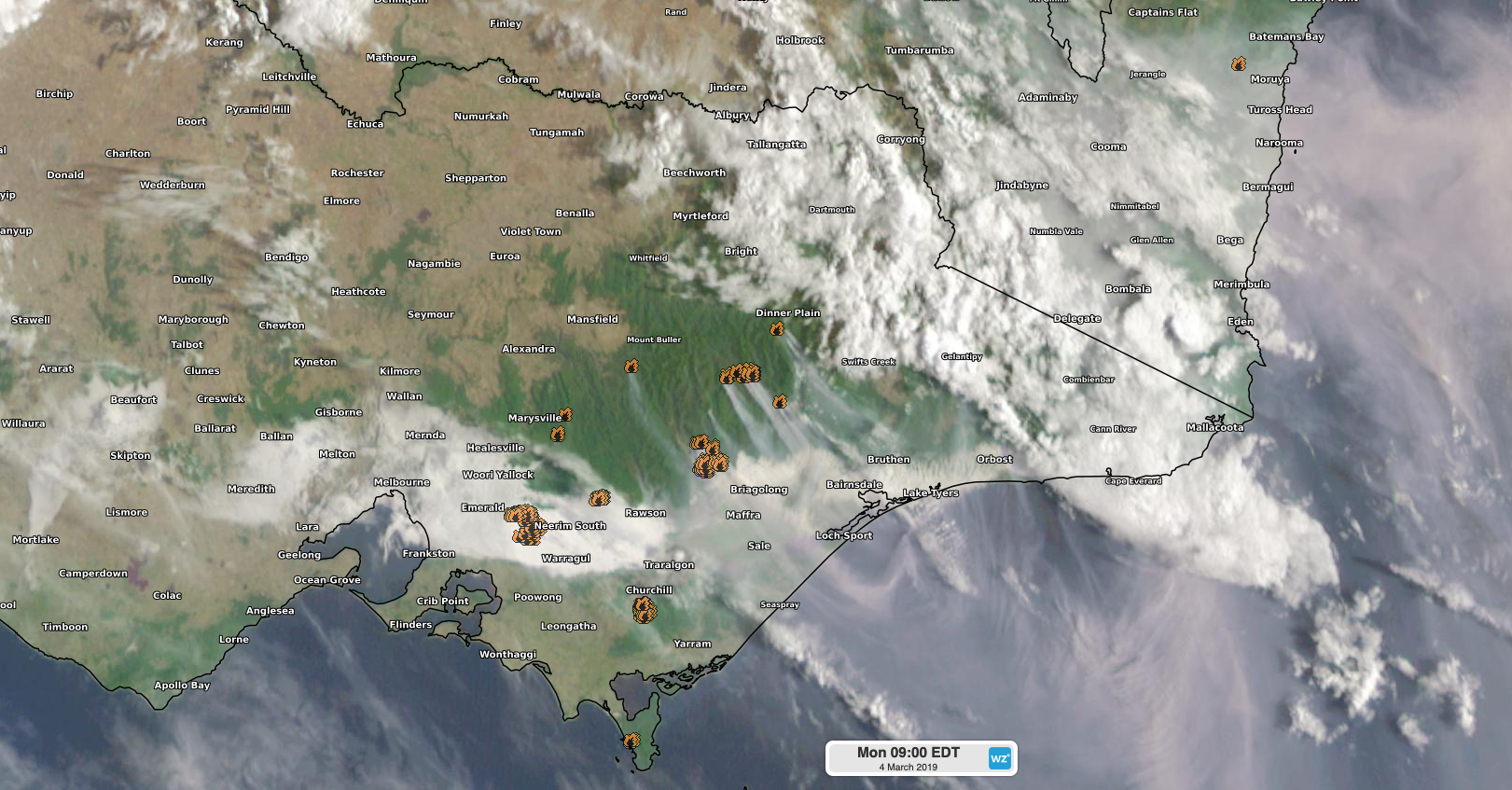 Image: Flame icons showing satellite-derrived bushfire hotspots and visible satellite imagery showing smoke plumes over eastern Victoria on Monday morning.
The main drivers behind the bushfires on the weekend were heat and abundant fuel loads.
Maximum temperatures climbed up to 15 degrees above average in central Victoria on Sunday afternoon, reaching 39 degrees at Werribee and Essendon. Further east, Bairnsdale's 37 degrees was 13 above average for March.
This unseasonable heat comes off the back of Victoria's warmest summer on record. For parts of the state's West and South Gippsland District, rainfall last season was also in the lowest 10 percent of historical records.
Today, southern Victoria is enjoying milder weather in the wake of cool change that passed through overnight, dropping the temperature by 10 degrees in 10 minutes in Melbourne. However, this change has stalled over Victoria and will allow warmer weather to persist in northern and some eastern parts of the state on Monday and Tuesday.
Echuca is forecast to reach 38 degrees on Monday afternoon, 10 degrees above average for this time of year, and 32 on Tuesday. Latrobe Valley's forecast top of 33 degrees is nine degrees warmer than usual for March, with 30 tipped for Tuesday.
Despite the persistent warmth, relatively low wind speeds should only let fire danger ratings reach High or Very High across Victoria during the next two days. These are the second and third levels on a six-tiered scale.
A near-stationary low pressure trough may also produce isolated showers and thunderstorms across parts of northern, central and eastern Victoria during the next two days. Any falls on Monday are likely to be light and thunderstorms may cause more dry lightning, along with localised wind bursts. Tuesday's showers and storms should bring heavier rain to parts of eastern Victoria, although some areas will miss out.
A strong cold front will sweep over Victoria on Tuesday night, dropping temperatures by around eight to ten degrees by Wednesday across most of the state.