Early-season warmth in Brisbane
Ben Domensino, 5 September 2019
Brisbane is currently experiencing its warmest weather this early in the season for 10 years.
The temperature in Brisbane reached 33.7 degrees on Wednesday and had already exceeded 30 degrees by midday on Thursday. Friday is forecast to reach 34 degrees in the city, although 35 is not out of the question. Brisbane's average maximum temperature during September is around 25 degrees.
This week's burst of early-spring heat is being caused by fresh northwesterly winds, which are carrying warm inland air towards the coast.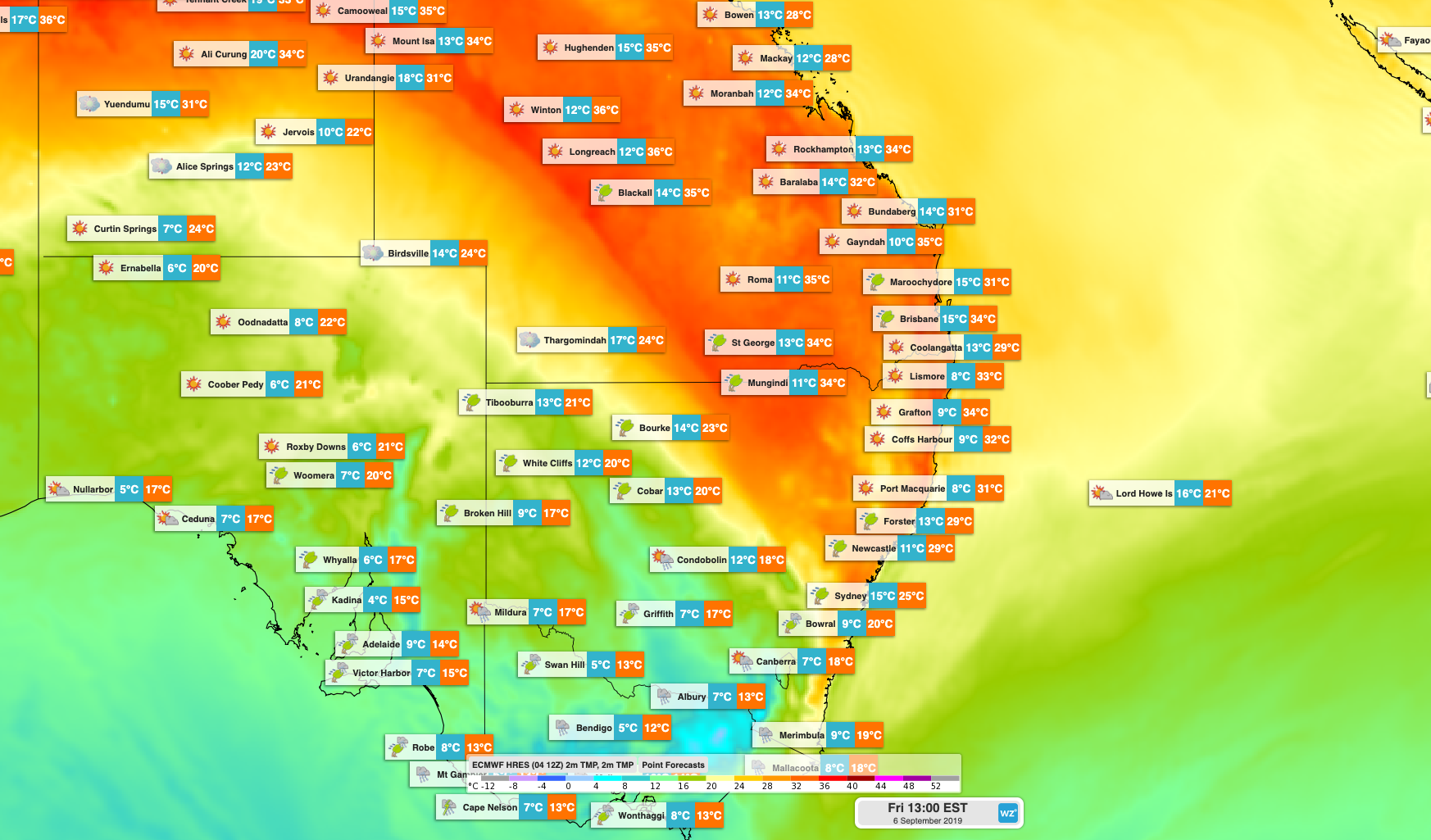 Image: Warm air is forecast to push daytime temperatures well above average in parts of eastern Australia on Friday.
The last time the Brisbane had three consecutive days over 30 degrees before the middle of September, including August, was in 2009. The city hasn't reached 30 degrees on any day this early in the season since 2013.
This week's warm weather will peak over southeast Queensland on Friday, as winds strengthen ahead of an approaching front. Severe to extreme fire danger ratings are forecast for in central and southeast Queensland and adjacent areas of northeast NSW amid Friday's warm and windy conditions.
Cooler air and lower fire danger ratings will return to southeast Queensland and northeast NSW on the weekend, in the wake of the front. Brisbane is forecast to reach tops of 26-27 degrees on Saturday and Sunday.
Visit https://www.qfes.qld.gov.au for the latest information on bushfires in Queensland and https://www.rfs.nsw.gov.au/ for fire details in NSW.