Behind the ongoing El Nino threat
Ben Domensino, 23 April 2019
There have been signs that El Nino could soon develop for the last several weeks. So what's behind the ongoing threat and what is likely to happen during the months ahead?
The Bureau of Meteorology currently has an El Nino Alert in place, meaning there's a 70 per cent chance of El Nino occurring during the coming months. This is up from a 50 per cent chance at the beginning of March.
The Alert remains in place because the sea surface temperatures in the equatorial Pacific Ocean have been sitting near El Nino thresholds for the last several weeks. However, ocean temperatures are only half the story.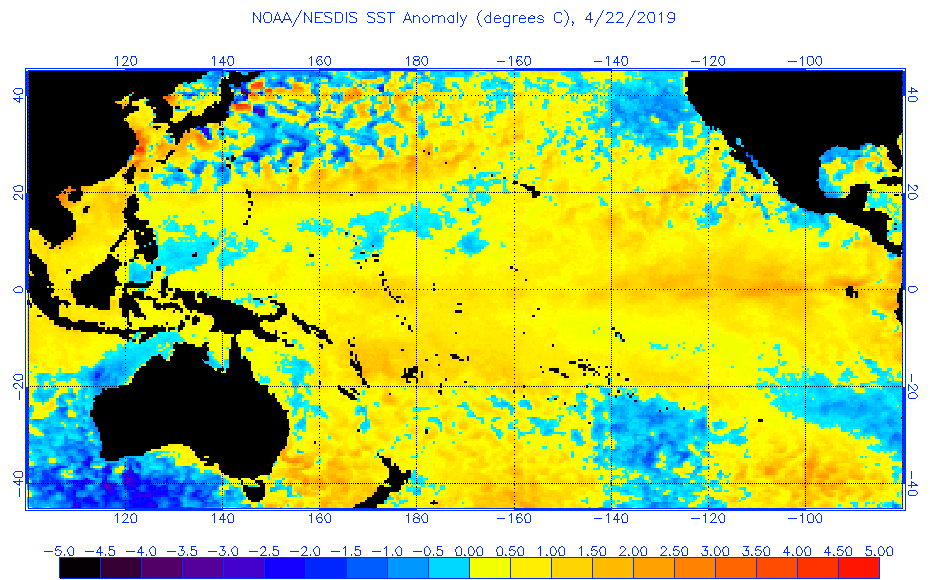 Image: Current sea surface temperature anomalies in the Pacific Ocean. Source: NOAA
The atmosphere above the Pacific Ocean needs to become coupled with the warming ocean for an El Nino event to be declared by the Bureau.
However, because the atmosphere is not yet responding to the warming in the Pacific Ocean, El Nino is technically not underway.
The atmospheric component of El Nino is what affects the weather here in Australia. During El Nino, trade winds over the Pacific Ocean break down. This reduces the amount of moisture being transported towards our continent, typically causing below-average rainfall in large areas of eastern Australia during winter and spring.
If the current El Nino-like pattern in the Pacific Ocean persists, the likelihood that the atmosphere will become coupled with the ocean remains heightened during the next few months.
So, what's likely to happen in the Pacific Ocean?
Most computer models surveyed by the Bureau suggest the Pacific Ocean should remain in an El Nino-like pattern into the start of winter. However, most models predict that it could cool towards the end of winter, which would cause the El Nino pattern to break down.
While El Nino could still develop during the next few months, there are signs that that it would be relatively short-lived and weak.