Antarctic air mass heading for Australia
Ben Domensino, 14 June 2018
The coldest weather in a couple of years will cause widespread and low level snow in southeastern Australia this weekend.
A large pool of cold air from the Southern Ocean will surge across southeastern Australia between Friday and Monday, causing a mix of wintry weather in multiple states.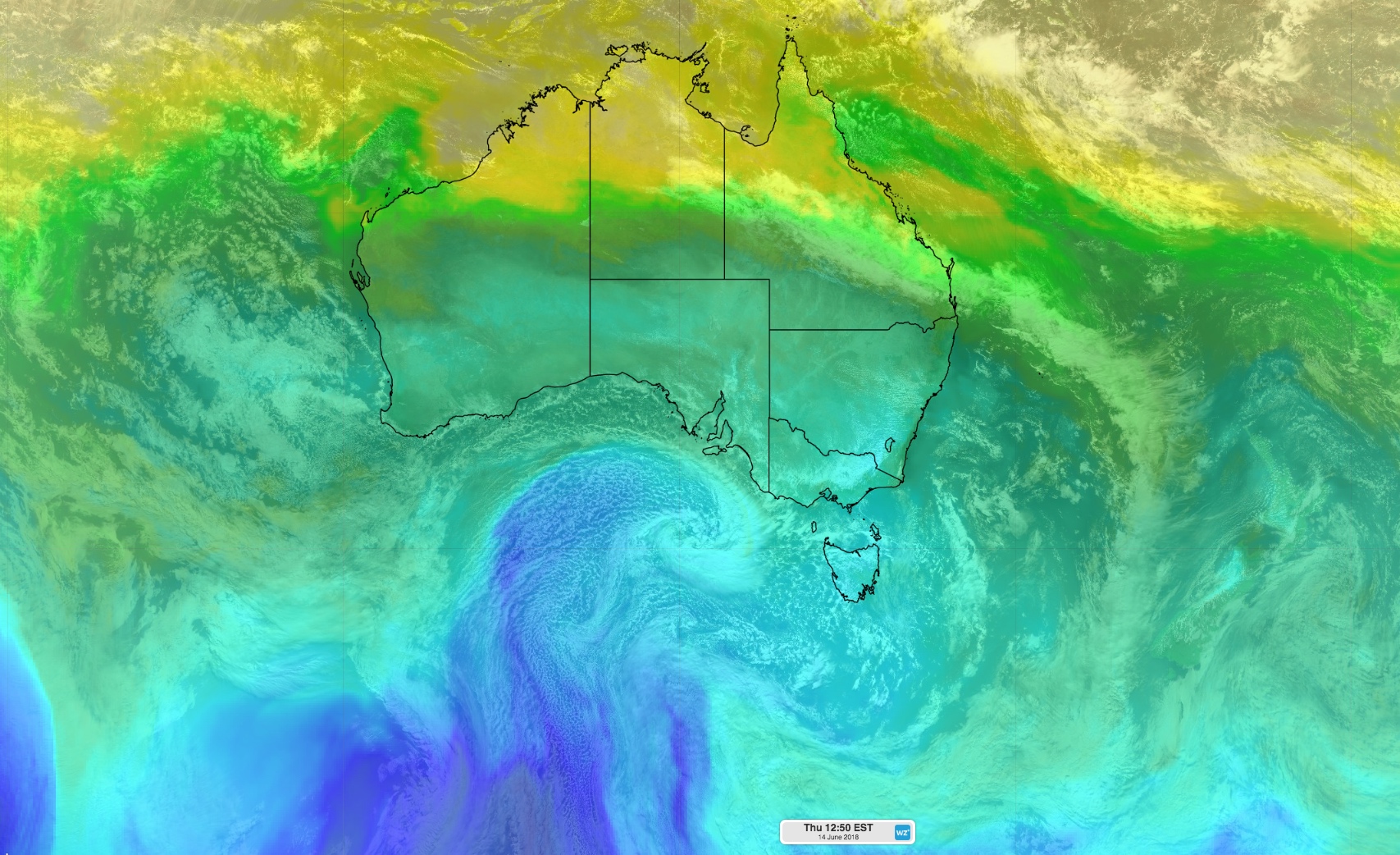 Image: Himawari-8 visible satellite image combined with the ACCESS-R 850hPa temperature field.
This system follows a series of weaker cold fronts that brought welcome rain and snow to parts of southern Australia earlier in the week.
Parts of NSW and Victoria received their heaviest rain in five to seven months during the 24 hours to 9am on Tuesday, including Corowa (13mm), Horsham (12mm), Stawell (17mm) and Kanagulk (20mm).
These systems also produced more than 10cm of fresh snow in the alps between Tuesday and Thursday morning, finally covering some of the grassy slopes at Australia's ski resorts.
Now, another cold front will cross southern Australia during the next 24 hours, causing a burst of blustery winds, rain and snow.
This system will be stronger than the last few fronts and is likely to cause damaging winds in parts of South Australia, Tasmania, Victoria, NSW and the ACT on Thursday and Friday.
This front will also usher in the large mass of cold air that has traversed the Southern Ocean during the past week, causing temperatures to plummet across southeastern Australia in the coming days.
The coldest air will arrive on Saturday and Sunday, allowing snow to fall down to about 600 metres above sea level in parts of Victoria, NSW and the ACT. Snow could settle on the Dandenong ranges near Melbourne and in Orange and Bathurst in central western NSW this weekend. Flakes are also possible in the hills around Canberra and on parts of the Blue Mountains and northern ranges in NSW.
Some places in NSW are forecast to experience their lowest maximum temperature in two or more years this weekend, including Sydney (14C), Canberra (7C), Bathurst (6C) and Goulburn (6C).
The heaviest snow during the next four days is likely to fall on the mainland alps, where 30-50cm of natural snow is likely to accumulate between Friday and Monday, on top of what's already on the ground.
In addition to the cold weather and snow, a complex low pressure system passing to the east of Tasmania will produce powerful winds across the nation's southeast in the coming days. This will lead to blizzard conditions in the alps and may cause damaging winds in other areas.
Visit http://www.weatherzone.com.au/warnings.jsp for the latest severe weather warnings.