Another dry, warm July in drought-weary NSW
Ben Domensino, 31 July 2019
Large areas of NSW had a notably dry July, exacerbating the drought in some parts of the state and continuing a recent trend of sparse mid-winter rain.
Much of NSW received less than half of its average monthly rainfall during July. Some areas in the far west, north and central west received less than 20 percent of their usual rain for the month.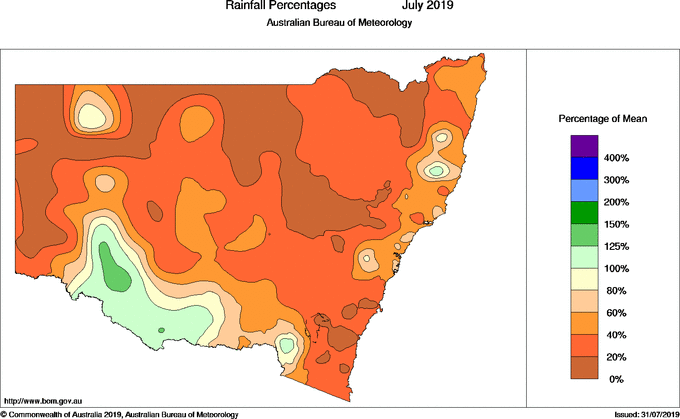 Image: Rainfall percentages during July 2019. Source: Bureau of Meteorology
A persistence of westerly winds and a lack of rain-bearing weather systems were responsible for the dry weather. This was the third consecutive July with significantly below-average rain in NSW, with 2018 and 2017 both ranking among the state's 10 driest Julys on record.
Brewarrina registered 0mm of rain during this month, making this its second consecutive completely dry July. This is a remarkable feat given Brewarrina only had four Julys with no rain at all during all of the 1900s. The long-term average for the month is 28mm.
Glen Innes only collected 4.6mm of rain, making this their driest July in 17 years. It was also the driest July since 2002 in Armidale, where just 6.2mm was recorded in the city.
Canberra registered its driest July in 37 years, with the nation's capital city only receiving 5mm of rain during the month.
July 2019 continues a prolonged period of below-average rain in large swathes of NSW. Some areas in the state's north and east had amassed rainfall deficits of 200-400mm during the 12 months ending in June this year, and this gap grew even wider during July.
It was also a warm month in NSW, with many locations likely to register one of their top two warmest Julys on record based on maximum temperatures.